Bloomtools web solutions named in 'SMART 100' Index
Written on the 14 April 2009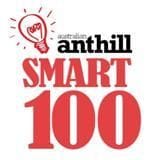 Bloomtools' Content Management System has been named one of Australia's 100 most innovative products, according to 1,600 maven judges, in one of the largest and most audacious innovation awards of its kind in Australia the 'SMART 100' Index.
Leading business magazine Australian Anthill and market research leader Colmar Brunton joined forces to create the 'Smart 100', Australia's largest and most democratic innovation awards. The Awards process spanned over six months and harnessed the power of 1,600 mavens identified by Colmar Brunton to judge the 861 products entered.

"The SMART 100 aims to bring a greater commercial focus to the concept of innovation, returning ownership of the principles surrounding this important word to the private sector," said James Tuckerman, Founder and Publisher of Anthill Magazine and founder of the 'SMART 100' Index. "Most awards rely on the expertise of a select few. The inaugural 'SMART 100' employed the knowledge and opinions of over 1,600 'maven' judges."
Bloomtools is excited to be part of this elite group of Australian businesses, according to Managing Director James Greig.
"We have always known that our website design CMS is an amazing product and we are so glad that this has been recognised by the 'SMART 100' team. Thewebconsole.com is the Content Management System that all our clients use to manage their online presence. The reason it is so unique is that it integrates a website editor with 30+ online tools and a sophisticated database and email marketing into an all-in-one simple to use package - no other website developer in Australia can offer that to Australian businesses!' said James.
Find out more about thewebconsole.comContent Management System here or contact Bloomtools here to find out how we can help your business get real results online.