A client of 7 years whose business has grown along with Bloomtools
Posted on 24 April 2013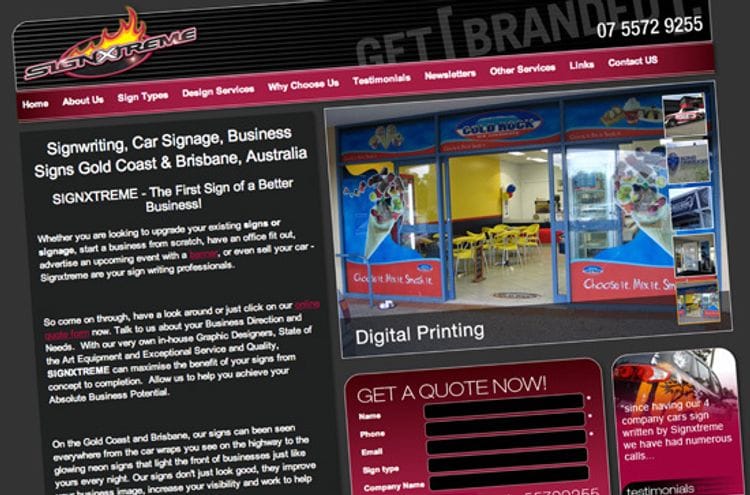 SignXtreme are one of the most trusted and respected branding specialists on the Gold Coast. Using qualified signwriters their work varies between industries, tourism to construction, and the size of jobs from shopping centres, schools to small one man band businesses. Building their strong reputation in the market is really important to SignXtreme and this can be seen in everything they do from their quality workmanship through to their strong ethic in customer service.
Being a client with Bloomtools for 7 years Greg and his team have maximised the use of Bloomtools products to assist them in their businesses growth "We love how Bloomtools invests in keeping our technology always at the leading edge of the internet and how easy it is for us to amend our website, add on tools and change the look as our business has evolved over that time. It is definitely the last website we will ever need! Our Website, Database Marketing and SEO plays a major role in attracting new customers and keeping our existing clients loyal and sending us referrals - so it is something we take very seriously"
Just as much as SignXtreme recommends Bloomtools, being a SignXtreme customer ourselves, we at Bloomtools recommend SignXtreme having used their specialist vehicle signage services to make our cars stand out on the road, as well as signs in our franchisees businesses. We look forward to the next 7+ years ahead working with SignXtreme


Author:
Tracey Voyce
About: With more than 30 years business management experience, Tracey Voyce is the CEO of Bloomtools. Tracey has owned and managed many businesses and spent several years training and motivating coaches at the world's largest business coaching franchise.
Connect via:
LinkedIn