Client Spotlight - Pest Free Homes
Posted on 26 September 2014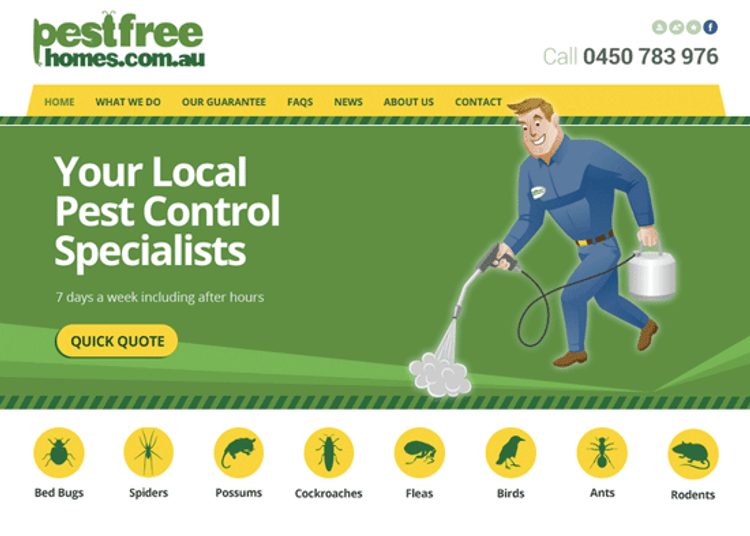 When it comes to a reliable pest control service, look no further than Pest Free Homes to remove any nasties - they even guarantee it.
Until recently, if you had searched for Pest Free Homes online, you wouldn't have found them. "My existing website was built using one of those cheap DIY tools online, and just wasn't getting me any results." says Director James Potter. "In addition to that, it also didn't represent the quality of the work that we did, the design was sloppy, and there were lots of issues with the way that it was built that meant that search engines couldn't find all the content in it".
"I had a business referral to use Bloomtools and considering my future plans, I decided that their toolbox was what I needed to get to the next stage of my business growth. I love the look of our website and I love being able to make alterations myself," says Potter.
The Pest Free Homes website is was designed with mobile users in mind, with a thumb-friendly version of the website built for smart phone users. Traffic is being driven to the site through SEO, and Google Advertising, in particular the 're-marketing' feature that displays banner advertising to people that have visited the site, but then not taken action.


Author:
Tracey Voyce
About: With more than 30 years business management experience, Tracey Voyce is the CEO of Bloomtools. Tracey has owned and managed many businesses and spent several years training and motivating coaches at the world's largest business coaching franchise.
Connect via:
LinkedIn