Client Spotlight - Pure Water Systems
Posted on 15 October 2014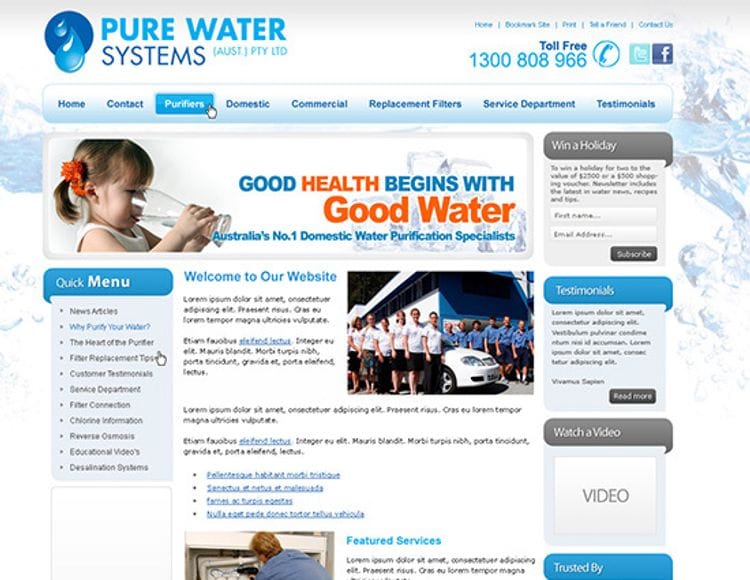 You will never have to buy another bottle of water with Australia's No.1 Domestic Water Purification Specialist, Pure Water Systems. Supplying more than 130,000 Australians with the best quality purified water available in Australia.
"We didn't actually have a working website before Bloomtools, we hadn't found an appealing website that we could self manage with minimal technicality… when we heard out about Bloomtools at a local seminar we were blown away that they could provide everything we needed and more" says Amelia, Marketing Executive.
"Having a Bloomtools website has significantly increased our website traffic, enquiries and sales. While the
email marketing capabilities
finally gave us a use for all the emails we had been collecting over the years. It enabled us to send triggered email campaigns, which drastically increased the efficiency of our business," says Amelia.
Pure Water Systems has been a loyal Bloomtools client for 4 years now, because Bloomtools software allows us to keep the technology up to date behind the scenes for you, your Bloomtools website will never go out of date… it is the last website you ever need - constantly updated around the latest market trends and innovations.


Author:
James Greig
About: James is the founder of Bloomtools and the software and Internet expert on the Executive Team. With a degree in Advanced Information Technology, specialising in Computer Science and Interactive Development, James founded the software development arm of Bloomtools in 2004.
Connect via:
Twitter
LinkedIn