6 Tips for Creating Video Content at Home
Posted on 2 April 2020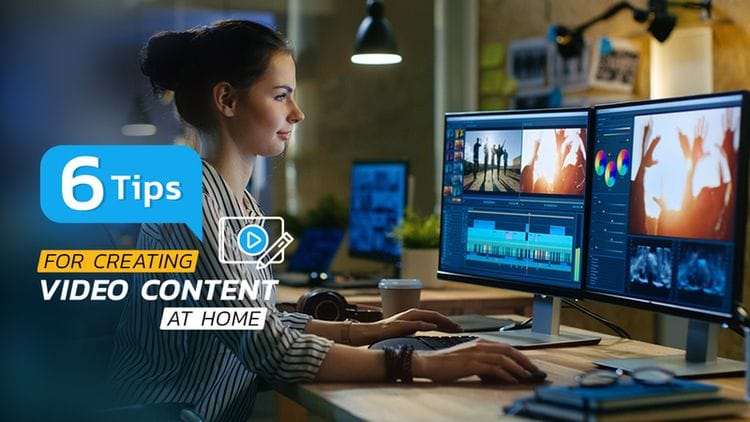 While some of us are now working from home for the time being, that doesn't mean working on your business has to stop. In fact, this provides ample opportunity to try something new, such as giving the extremely effective video content a go.
Videos are becoming essential for websites - "Users spend 88% more time on websites that have videos" (source: Forbes), but also in your emails - "Emails are opened 7% more when they have the word 'video' in the subject line". And when it comes to marketing on social media it is a must.
Now, before you think you can't do this because you're not trained in videography, we're here to tell you there are things you can do simply with a smartphone! Modern technology has allowed for anyone to shoot, edit and upload videos - it's easier than ever before. If you don't believe us, scroll down or click here to watch a video by an expert videographer. So, what can you put in a video?
Options of types of videos you could create:
Depending on your business and what service or products you provide, you'll have to decide what's most appropriate or fitting for you.
COVID-19 message
Right now, your clients need to hear from you on how your business is operating through this time and how you are working on keeping your team and clients safe. Often these messages are done by the CEO or owner to further connect with clients - demonstrating your business's personality and empathy.
Informative content
More searches are done online asking questions. People are hungry for answers. So investigate what how-to video's you can do for your business, different niches, products or services. "How to" searches on YouTube increase by 70% every year (source: Brandwatch).
Product / service overviews
The popularity of videos is showing up strong for pre-purchase research. In fact 72% of customers prefer learning about a product or service through a video (source: HubSpot). A video can often show off a product better than just static pictures and words. Same with a service, often watching a 2 minute video can enable a person to gain a better understanding of the service and how it can help them. If you are in the B2B market. 59% of executives prefer watching a video than reading text (source: WordStream).
Business trailer / explanation video
You may already have one, but if you don't, now is the perfect time. All it takes is a clear video explaining who you are, what you do and how you do it. Basically, it's just a chance to introduce yourself to potential clients and give your online presence a human touch.
FAQs
If you receive a lot of questions from clients, then this could be a great way to get some video content out there, help your SEO, while also adding value to customers.
Busting myths
This might sound similar to an FAQ video, but it's different in the sense that you won't be answering questions, you'll be busting myths that are associated with your industry or product/service. It allows you to clear up some misconceptions and demonstrate your knowledge and expertise in a fun way!
Thank you video
This one's super straight forward. Especially during these hard times, it's great to let your previous/current loyal clients that you're thankful for their ongoing support.
Case studies
Indisputably a powerful video subject, case-studies can be a combination of hard-facts and testimonials. This one might be a bit harder with current social distancing rules in place, but if you've got a case study of a client that you're really proud of, put it into video form. It's a great way to show what you can do and have done in the past, without being too salesy.
Information visualisation
If you've previously sent out a blog or newsletter with some important information on it, turn it into a video! Depending on the information itself, you could repurpose this written content in an infographic or data visualisation video format. You could use a whiteboard or creatively show the information through text and images.
So now you have some ideas of what you could do. But how can you create these videos at-home? It's actually pretty simple. As mentioned earlier, if you've got a smartphone, you can make a video!
Looking for additional advice before filming your full video? By using Bloomtools' professional editing service, you can send us a test of your video - we'll give you the thumbs up or we'll give you specialist guidance on anything you need to change so that you can feel completely confident going forward. And then we will do the finishing polishes to the video and get it ready for you to upload and use on your website and social media.
1. Have a simple background
A plain wall in your home will do the job just fine. This limits viewers from being distracted from the person speaking. It also helps to keep the background consistent if you're shooting multiple videos.
2. Stay close to the microphone in the phone
When using your smartphone, it pays to not stand too far away as the microphone will not pick up the audio clearly enough. Finding the right balance of getting quality audio and visuals might take a few goes.
3. Write a plan, but not a script
While it's important to plan and know what message and content you want to speak about, it's best to speak naturally and let it flow. A more conversational "script" will help you show your personality and also your expertise in the industry.
4. Think about lighting
If the room you're in is poorly lit or has TOO much light, find another room! Most modern day smartphones are equipped with an aperture that performs well in low-lighting situations, but you don't want to be somewhere that's too dark either. The lighting should be enough to keep you or the speaker in focus, not too washed out by sunlight and also not too hidden in the dark. Try a few test videos in different spots if necessary to see how the lighting performs. If it's too grainy, it might be too dark. If there's light flares in the footage or the speaker looks ghost-like, it's too bright.
5. Keep the phone or camera ready
This might be a bit challenging if you don't have a stabiliser or tripod for phones. But, no need to panic! Simply find a stable support like books, shelves - anything in your home that will hold it up and steady for the duration of your filming.
6. Shoot the video horizontally
The video orientation translates differently across different platforms and screens. When filmed horizontally instead of vertically, you counteract the risk that the video will come across poorly when played on different screens.
What next?
Now that you've made your at home filmmaking debut, it's time to edit and upload. Our team of videographers and editors will help you get the reel rolling and edit your footage. If you're interested in our editing services or want to know more, feel free to call us at on (07) 5636 3700 for more information, or book a consultation today with one of our marketing specialists.