A worthy cause Bloomtools is so happy to support
Posted on 6 May 2013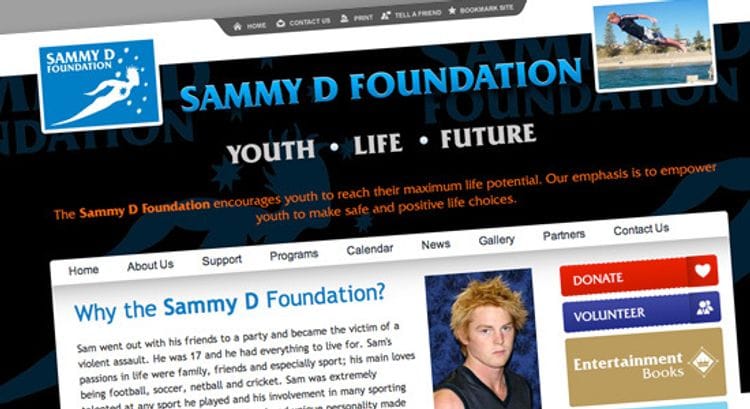 The Sammy D Foundation was created by husband and wife team Nat Cook and Neil Davis after their 17-year old son Sam was fatally king hit while trying to intervene in a fight at a party in 2008.
Out of tragedy, the small but committed Sammy D Foundation team has worked with the South Australian community and businesses to deliver its core programs; Impact, Connect and Party Wise to nearly 15,000 young people in metropolitan and regional locations.
How is the Sammy D Foundation reducing violence?
The Sammy D Foundation is a harm prevention charity focussing on promoting healthy lifestyles, providing opportunities for success, nurturing mateship, bringing families closer together and raising awareness of harm-causing behaviour. The Foundation has a strong focus on encouraging youth to realise their potential and empower them to make safe and positive life choices. Every young person deserves to be loved, supported and protected, with many needing guidance and positive role modelling to equip them with the skills and confidence needed to avoid dangerous situations, and knowing how to respond if confronted.
How can you help?
Donations and sponsorship are important to sustain the very successful programs delivered by the Foundation, with donations over $2 tax deductible.
Volunteering is another way to help, and more information about what you can do to make a difference to this serious community issue can be found at www.sammydfoundation.com.au
Thanks Andrew and Bloomtools for helping us with a great website design that is so easy for us to update and will help spread our message. We appreciate your gift, the functionality in the website from the Donation tool through to the Email Marketing system is going to make such a difference to what we can do. Thank You.


Author:
Tracey Voyce
About: With more than 30 years business management experience, Tracey Voyce is the CEO of Bloomtools. Tracey has owned and managed many businesses and spent several years training and motivating coaches at the world's largest business coaching franchise.
Connect via:
LinkedIn