Bloomtools Proudly Supporting Bravehearts Inc
Posted on 24 February 2014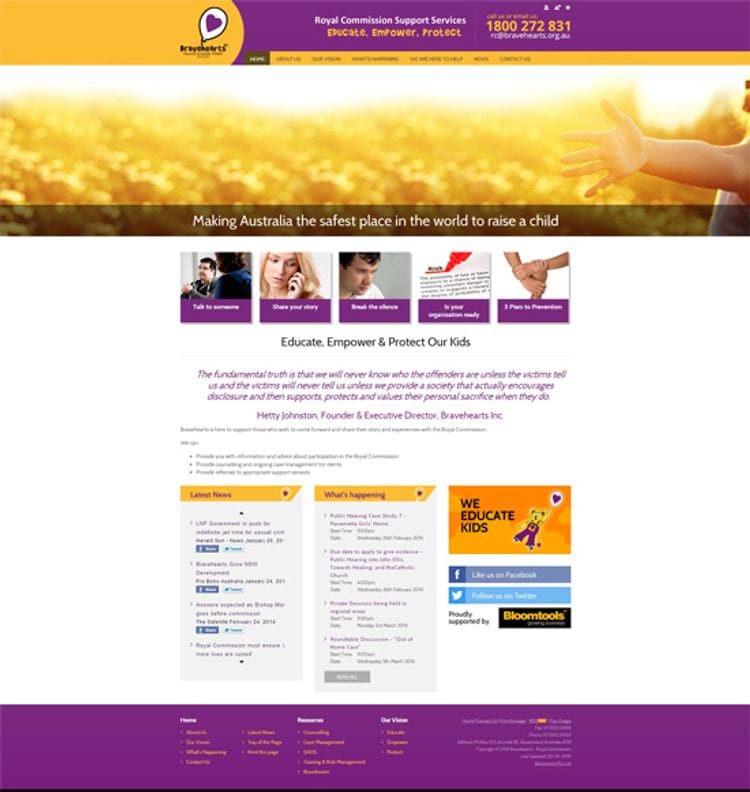 Supporting an important voice in our community
Bravehearts was founded by Hetty Johnston during Child Protection Week, September 1997, with a strong purpose to educate, empower and protect Australian kids from sexual assault.
Their Vision is to make Australia the safest place in the world to raise a child by 2020. To achieve this they depend on business, government and community support to ensure continued delivery of their school-based prevention programs as well as training, counselling, support and advocacy for survivors. It will also allow continued research and important legislative reform agenda.
Bloomtools is so proud to work with this organisation - their energy, efforts and results they acheive in the community are so valuable.
What the purpose of the Bravehearts Inc website
"The new Bravehearts Inc website is to assist Bravehearts clients, and those considering engaging with the Royal Commission in the future, to understand the ways in which Bravehearts can support them through this process. It also is a source of information about the Royal Commission and Bravehearts' involvement with it. It aims to 'reach out' to a wide variety of Australians to offer this information and support. The website needed to be professional, user-friendly, eye-catching and clear. It is all of these things."
How this will help Bravehearts Inc?
"In this way, Bravehearts hopes to work with the Royal Commission to provide client-centred holistic support to survivors of child sexual assault, in a way that meets their numerous support needs. By providing information and support, this will assist Bravehearts to 'empower' survivors to speak out and share their stories with the Royal Commission."
How easy is the Bloomtools system to use?
"The system is very user-friendly when compared with other website tools. Staff without an awareness of "coding" or traditional website technical tools are able to quickly learn how to amend or update content. For example, it is easy to upload articles, incorporate news feeds, link to external URLs and edit text – just using the traditional skills of editing text that staff are already comfortable with."
"We want to say a massive heartfelt thankyou for the tremendous work you have done on our Bravehearts Royal Commission website. The site looks fantastic and will be of enormous benefit to the clients and survivors who depend on Bravehearts." Jason Oxenbridge


Author:
Tracey Voyce
About: With more than 30 years business management experience, Tracey Voyce is the CEO of Bloomtools. Tracey has owned and managed many businesses and spent several years training and motivating coaches at the world's largest business coaching franchise.
Connect via:
LinkedIn