Client Spotlight - ATM Logistics
Posted on 20 June 2012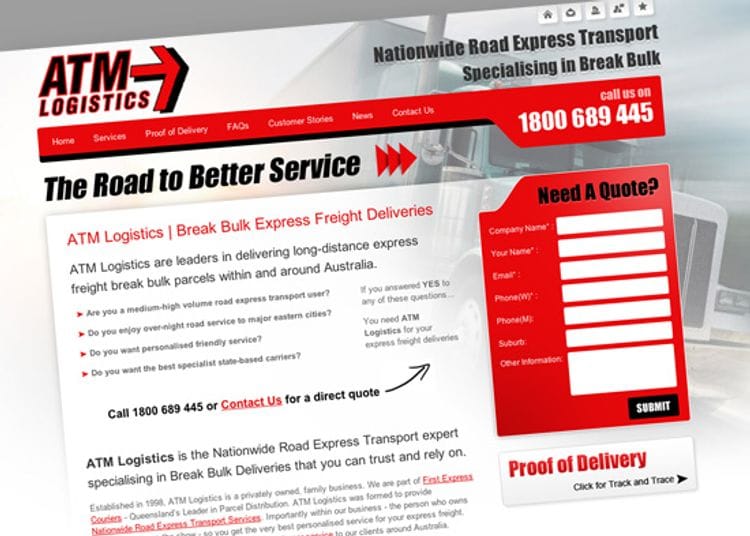 ATM Logistics attention-grabbing website tells you what you need to know in an instant. The website design leaves you in no doubt about what this express transport business does, how they can help you and where you can contact them. This is an important key element that many websites miss the mark on.
The privately owned family business has been operating since 1998, fine-tuning its expertise in Nationwide Road Express Transport. Having used Bloomtools to create ATM's already successful First Express Couriers website, ATM was eager to employ Bloomtools to update their other website in order to help them improve their conversion of online leads - as well as have a more professional-looking and cost-effective website, of course.
The ATM website design boasts a leading Despatch System, which provides all your consignment notes and SSCC barcoded labels to enable Track & Trace. Everything you need to know about sending a parcel is mapped out in easy step-by-step instructions in the FAQs section, including working out the chargeable weight, what to do in case of loss or damage and how to complete an ATM TDX consignment note.
You can also track the proof of delivery via the website, so you know when your parcel has been delivered.
ATM is offering you a cheaper, more effective method of express parcel delivery with its break bulk system. This reduced-handling system is more cost-effective, offering a better deal for high-volume deliveries.
Instead of individual parcels being tumbled through the delivery process, risking breakages and loss, packages are sorted by state then stacked on distribution pallets. These are then loaded onto line-haul trailers and shipped overnight to the receiving hubs in each metro or country region.