Client Spotlight - Bathroom Werx
Posted on 21 March 2012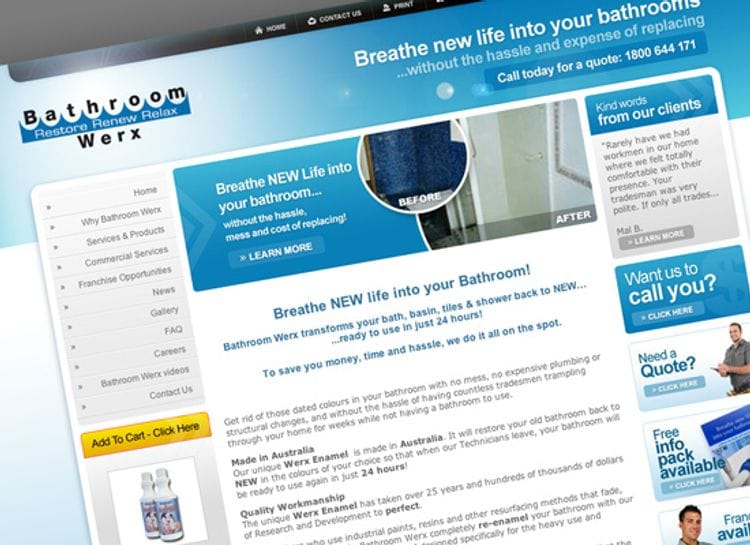 Bathroom Werx is a national franchise system established in 1986 and specialises in providing an alternative to expensive bathroom renovations. Their bathroom makeover services are targeted at the commercial and domestic markets including property groups, hotel owners and managers, government housing departments, and homeowners. The Bathroom Werx network of Franchises and Technicians renovates over 100 bathrooms a week for their clients and customers around Australia. They can take an average looking bathroom and turn it into a stunning new bathroom you'll be proud of for a fraction of the cost and the time that goes into a complete 'rip out and replace' renovation. Needless to say, we're very proud to have Bathroom Werx as this week's Client Spotlight.
Before coming to Bloomtools, Bathroom Werx had a website but it wasn't getting the results they wanted. Despite using a content management system (CMS) it was still difficult to update and staff found that they were not making the most out of something they had poured a lot of money into. Bathroom Werx CEO, George Yammouni, heard Tracey Voyce, Director of Bloomtools, speak on a number of occasions at different Franchise Council of Australia conferences and it was after a chat with her one day that he decided to make the move to Bloomtools.
Since then, Bathroom Werx has not looked back.
The new Bathroom Werx website is now a powerful tool that they use to promote their business. "From one login, we can update our Case Studies manager with our team's latest projects, blog about our industry, upload gallery images from past projects, upload testimonials from our many happy customers, and even manage our online shopping cart!" says George.
Furthermore, Bathroom Werx also uses the Bloomtools SEO Services and Database Marketing to further leverage their website to take it to the next level. The result: "We are now getting more visitors than ever before and visitors are coming back more often, staying longer, buying more frequently and referring others" says George.
You can contact Bathroom Werx on 1800 644 171 for a chat about your bathroom. You'll be surprised at what they can do and how little it costs compared to renovating!