Client spotlight - Battle of Wills
Posted on 19 September 2012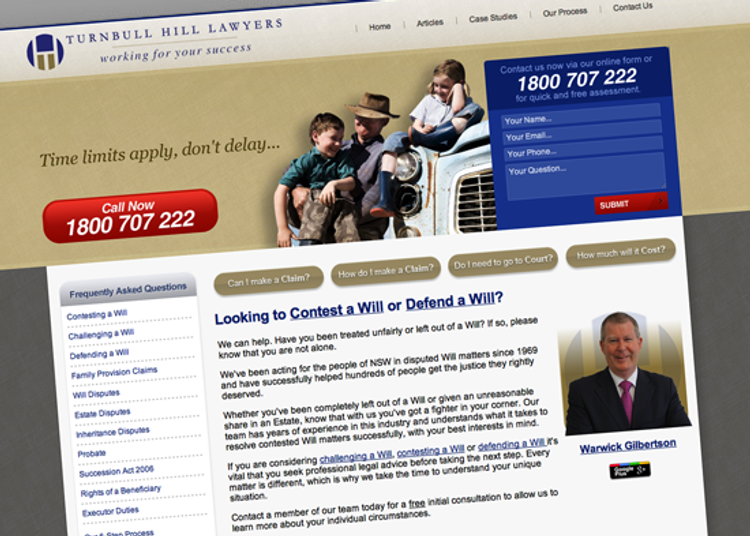 Turnbull Hill Lawyers has just launched a second website to complement its already successful Bloomtools-built website, which showcases its established legal firm, operating in Newcastle for more than four decades and servicing the local, Central Coast and Sydney regions.
The second website was created to tap into a growing niche market of clients wanting to contest and defend Wills, aptly called the Battle of Wills, which provides a plethora of useful information, advice and legislation about the subject. By having it as a separate website, Turnbull Hill has made it a lot easier for the target market to find the Battle of Wills website using a Google search.
With the content and calls to action being dedicated to the needs of this particular niche market, the new website has enabled Turnbull Hill to attract more business. The combination of Turnbull Hill's online marketing campaign and the additions to the Battle of Wills website has lead to at least one to three email enquiries and about five phone calls a week.
Chris Gander, digital marketing manager at Turnbull Hill, says that both websites are very user-friendly and the "entire marketing team can use [the CMS] without having any technical capabilities themselves. It's a bonus being able to manage it ourselves, especially as our business changes rapidly.
"Bloomtools allows us to update our dynamically changing websites on the fly. And it's not confusing, which is a great asset because I have seen some CMS that staff simply cannot figure out how to use. This is no good to any business," Gander says.
Gander is deeply impressed with his Bloomtools Consultant's rapid response times.
"The Bloomtools customer service is exceptional, with a speedy call back to sort out any queries we may have."