Client Spotlight - RAW
Posted on 27 March 2012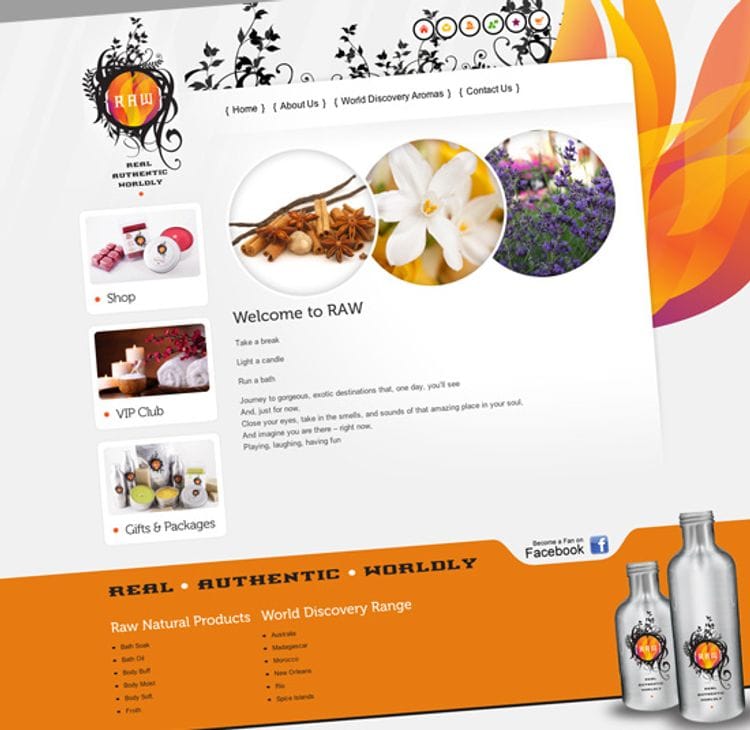 When I saw this website go live the other day, I have to admit that my breath was taken away. There are so many things about this design that I love and that I know will work for this company. For some background information, RAW stands for Real Authentic Worldly, and they are purveyors of natural, scented bath products and candles. Furthermore, all the products they stock have been developed and made in Newcastle.
So, let's look at why this website is going to work. For starters, it is very aesthetically pleasing with the off-whites, intricate floral patterns and bold oranges and yellows that breath life and energy into the design. Plenty of spacing between the promo boxes on the left hand side, and the product listings give the website a very clean and uncluttered look.
Furthermore, the navigation is almost minimalist to ensure that there is no confusion for the website viewer. There's a top navigation banner for the major pages, promo boxes on the left to highlight some of the website features, and a more comprehensive menu at the footer of the page to enable visitors to jump straight to the page they want.
Each product in the shopping cart is accompanied by multiple images of the product, as well as a great description. The client has definitely considered the mindset of the online shopper when uploading their inventory and I have no doubts that people will find an easy and enjoyable online shopping experience here.
Are you wanting a website like this? Then contact your local Bloomtools consultant today for an quote.