Client Spotlight - SPMG
Posted on 21 November 2012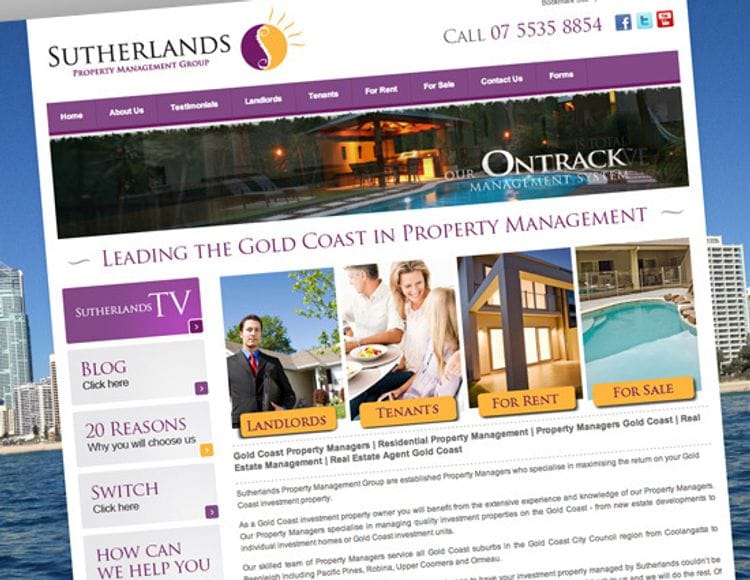 You can't help thinking about moving into your dream home when you visit Sutherland Property Management's
new-look Bloomtools website
. Stylish images of the Gold Coast's best locations and properties are displayed across the top of the website, getting you in the property-searching mood.
Sutherlands Property Management Group services the Gold Coast in prime specialist residential rental properties. A local all her life, Principal & Business Coordinator Colleen Sutherland combined her many years' experience in the real estate industry with her passion to set new precedents when she formed Sutherlands eight years ago.
Sutherland says that having a website presence is extremely important for her business in order to gain new clients, as the business provides for both landlords and tenants.
"We usually just send new business prospects to our website to have a look at what we offer, so I'm really happy that the reskinned website is clean, fresh and easy-to-use," says Sutherland.
"The good thing is that since we reskinned, our enquiries for new business have more than doubled. We used to have an old brochure-style website, but a client recommended
Bloomtools
four years ago and we built our website with them then. Because Bloomtools constantly keep the backend of my website all up to date (SaaS) all we have needed to do is just reskin our website, to make the front end of the website look modern and fresh too.
"I can't pinpoint one thing that I love the most about the new website," says Sutherland, "but my favourites are 20 Reasons, Switch and Sutherlands TV (our online YouTube show)."
Sutherland says that the website is helping to keep up the business's Google rankings; "we are building this with online support".
"And the Database Marketing provides a positive vehicle for us to tell our landlord clients important news on a regular basis."


Author:
Tracey Voyce
About: With more than 30 years business management experience, Tracey Voyce is the CEO of Bloomtools. Tracey has owned and managed many businesses and spent several years training and motivating coaches at the world's largest business coaching franchise.
Connect via:
LinkedIn