Client Spotlight: Base Zero and their website that "rocks!"
Posted on 1 June 2016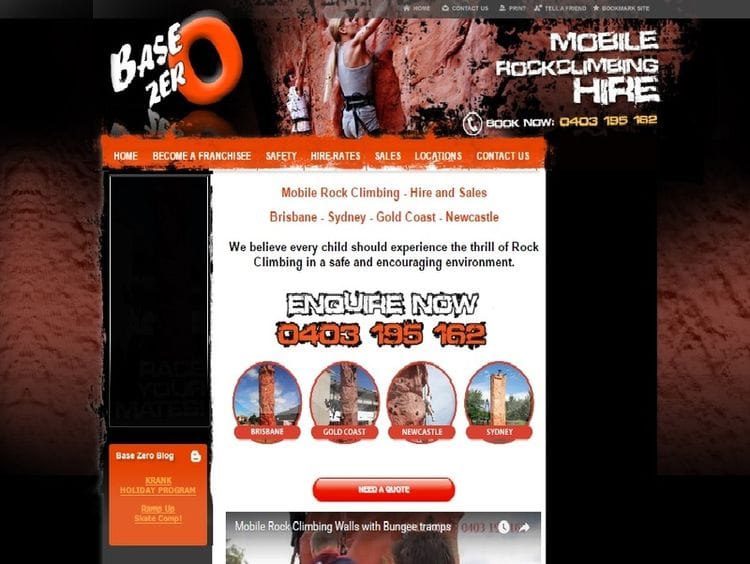 Matt and the team at Base Zero are passionate about what they do, and that certainly translates into their website. They are an adventurous, enthusiastic bunch of rock climbers who want to spread the word about climbing, and help the community feel comfortable and confident in doing so.
Base Zero offers mobile rock climbing activities in Queensland and in New South Wales. They provide a safe, encouraging environment for people to take on a challenge and develop confidence. All sorts of groups or companies can hire Base Zero mobile rock climbing units. It's a great team building activity, and is a major hit with kids!
One thing that Base Zero has struggled with with their previous websites in the past has been the non-user friendly system and lack of support. They love how Bloomtools gives them the knowledge and guidance they need to be able to maximise a lot of the website themselves.
The team at
Bloomtools Gold Coast, take their website
clients through training sessions to help them understand what their website can do, and how to do it. This is our way of empowering business owners to understand and take control of something that may often be looked at as complex and unfamiliar. Whenever Matt and the team at Base Zero need help with their website, they know they can give us a ring and we will be more than happy to help.
The team at Base Zero takes advantage of their database marketing quite frequently by sending out email campaigns on a regular basis. This helps them market to new customers and keep in touch with current customers which facilitates referrals and encourages them back again. They update their clients with new specials, ideas from recent events and also new services they offer.
One of the main objectives of the Base Zero website is to make it easy for prospective customers to find/contact them. With that objective in mind, we've made sure there are numerous ways of contacting Base Zero on their website. It is always a good idea to give potential customers various options when it comes to getting in contact. We've also made sure that they are all visible and easy to understand. The Base Zero website is also search engine optimised (SEO) which helps Google and users find their website easily when searched.
We've recently updated the Base Zero mobile website as well, which enables them to personalise the experience and content on the smaller device to increase the results it achieves. As it is becoming increasingly popular for people to use their mobiles when researching, and can be very frustrating when the website is not mobile friendly. Base Zero has done a great job of updating their mobile website to reflect the easy-to-use desktop version.
What makes the
Base Zero website
so great, is that it really reflects the enthusiasm of the Base Zero team. They love to climb, and they want to share their enthusiasm with their clients. They have a video, testimonials, product and service features, and a lot resources to give their customers all the information they need to fall in love with climbing like they have. They want to help the communities they service build confidence and resiliency by pursuing a fun yet challenging activity like rock climbing!