Digital set to take over marketing budgets
Posted on 11 November 2014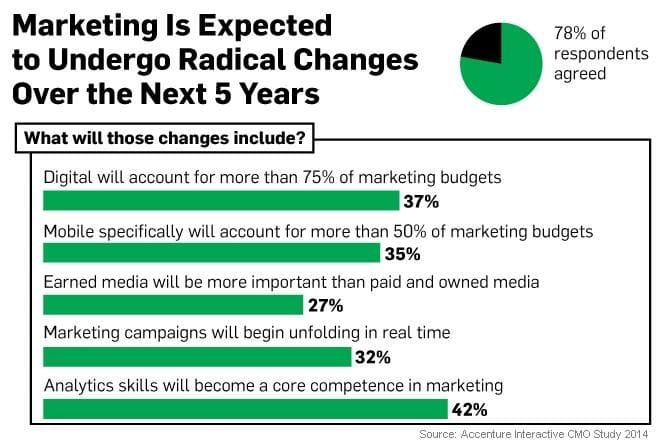 For most businesses, digital has already had a massive effect on their marketing budgets. But its impact is about to become even greater are you ready for it?
The 2014 Accenture Interactive CMO Study found that 78 per cent of chief marketing officers (CMOs) believe marketing will undergo radical changes in the next five years. What's more, 37 per cent predict online media will account for three-quarters of marketing budgets within that time.
Big changes and key concerns
The next five years could see marketing morph into a very different beast, with 42 per cent of CMOs saying that managing change will be the biggest barrier to implementing business initiatives. But as more traditional forms of advertising lose currency, it's essential your business is ready to engage with digital audiences and that you develop the necessary skills to do it.
New marketing, new skills
To compete in the digital marketing sphere, businesses will need to invest in new skills, starting with analytical skills, as almost half of CMOs believe it will become a key competence for any marketer. Setting up Google Analytics for your site can be done quickly, and the abundance of data it provides can vastly inform your future marketing decisions.
Businesses will also need to adapt to the new trend of marketing campaigns unfolding in real time. Social media has begun offering a taste of the nimble marketer you need to be in order to keep up with customer demands and fluctuating opinion, although 32 per cent of CMOs think that in the next five years, a real-time campaign will be essential. Upping your social sharing power now with a selection of social media tools is a great way to start.
Plot your course for the future
Future-proof your marketing plan by investing in digital now. From SEM and banner ads to social media campaigns, contact your Bloomtools consultant to discuss the many options you can incorporate into your marketing strategy.


Author:
Tracey Voyce
About: With more than 30 years business management experience, Tracey Voyce is the CEO of Bloomtools. Tracey has owned and managed many businesses and spent several years training and motivating coaches at the world's largest business coaching franchise.
Connect via:
LinkedIn