Fresh changes in design of websites for 2016
Posted on 23 June 2016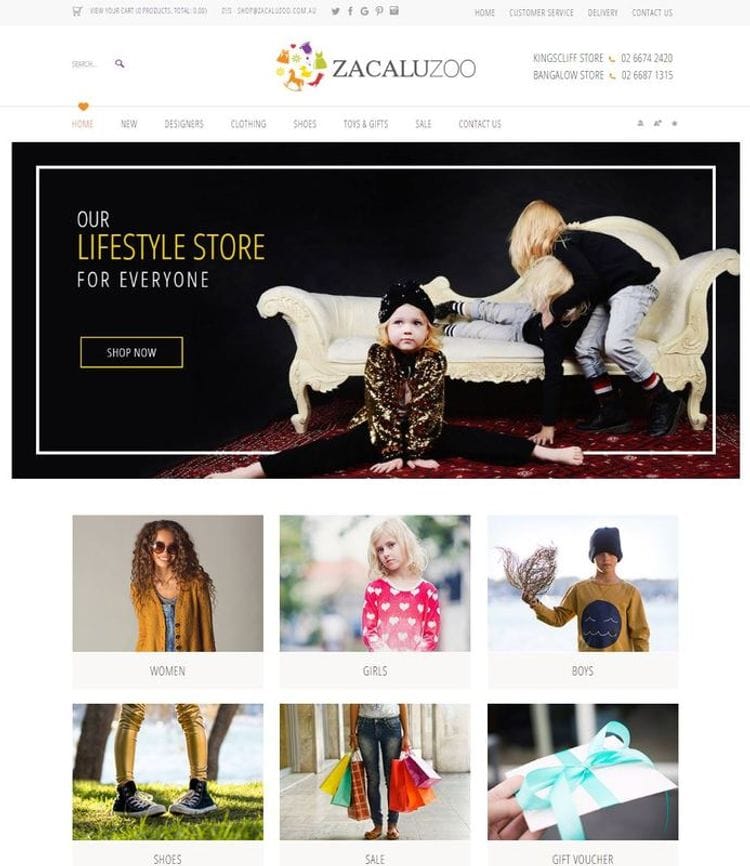 After 5 years with Bloomtools, Zacalu Zoo has added a new look to her website versus needing to buy a brand new website. Remember, that's all you need to do with a Bloomtools website as we keep the technology behind the scenes and up-to-date for you.
Starting out with a kids clothing shop in Kingscliff, Chantal and her family have impressively grown their business to now sell women's wear and shoes, and also adding a new location with her second store open in Bangalow. Their online business has also been growing to bring in a steady flow of sales too.
Because Zacalu Zoo's stock is very fashionable, we needed to match that with a modern design that really showcased the products as the heroes.
The trends these days with designs are:
To use the full width of the screen, and create as much white space as possible to show off what you want people to focus on.

Make your home page your businesses shop window. Whether in retail or not. Within 3 seconds your site visitor will make an instant decision on whether to stay or go. They will decide if you have what they are after and that you are a business they want to do business with.

Due to that speed, design is very important that it talks to your target market, showcases visually as well as in words what you do, looks professional and up to date. Essentially how you look on your website, must match up with how you want to be perceived as a business.
For eCommerce (shopping websites), it needs to:
Demonstrate immediately that you are selling your goods online.

Encourages people to stay and look around by showcasing some of your product range. Excellent photos are essential.

Give people piece of mind with security, key customer service areas including shipping, returns, privacy etc.

Encourage action with clear calls to action and incentives.

Captures email addresses, so even if they do not buy this time you have their details to market to them in the future.

Works the mobile market. This is one of the biggest, as usability on a mobile phone is different to a tablet and desktop/laptop. Designing a mobile solution needs to focus on this device users needs and your key actions you are wanting people to take.
Go check out Zacaluzoo online website showcasing fashion for kids, tweens and women - Be sure to view it on your desktop as well as mobile phone to see the difference between both design.
If your website is looking out of date and not keeping site visitors or encouraging them to take action then give your local Bloomtools Consultant a call to find out what you need to do to get better results.


Author:
Tracey Voyce
About: With more than 30 years business management experience, Tracey Voyce is the CEO of Bloomtools. Tracey has owned and managed many businesses and spent several years training and motivating coaches at the world's largest business coaching franchise.
Connect via:
LinkedIn