Supporting the Daniel Morcombe Foundation
Posted on 31 October 2014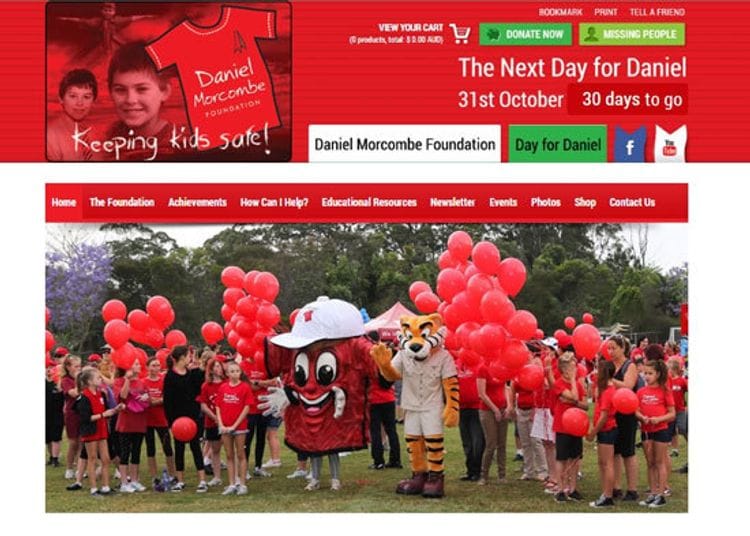 Bloomtools has a history of supporting a range of worthy causes, and in the last year has had a big focus on child safety - helping "make Australia the safest place to raise a child" with our involvement in Bravehearts through their Royal Commission website, and At the Ark a support group for individuals dealing with sexual abuse. It was through our work with Hetty Johnston, that James & Tracey met with Bruce and Denise Morcombe and learnt about the Foundation they have setup as a legacy to their son, Daniel, who was abducted and murdered while waiting for a bus on the Sunshine Coast in 2003.
What does the Daniel Morcombe Foundation do?
The Daniel Morcombe foundation is committed to Keeping Kids Safe. It was established to educate children on how to stay safe in physical and online environments, and also to support young victims of crime.
The education program focuses on empowering children to 'Recognise, React and Report' if they feel that something isn't right. They do this through educational resources that can be downloaded through their website, and through the 'Day for Daniel' where children and adults are encouraged to wear red in schools, businesses, and communities across Australia.
How is Bloomtools helping?
Bloomtools has built two new websites for the foundation, including the main foundation's website, and Day for Daniel. The websites include a range of features including a Content Management system that makes it easy for the Foundation to maintain their website themselves, a Shopping Cart and Donations tool, and the Bloomtools Database Marketing tool for communicating with their database of supporters.
How can you help?
There are a number of ways you can get involved and help the foundation achieve their goals, they include; promoting awareness activities by getting your school or community involved in Day for Daniel, and also in helping raise donations by conducting fundraising events and directly donating funds to the organisation.
The Day for Daniel is today, so please donate to support this great foundation.. and be ready for the next one in a years time.


Author:
James Greig
About: James is the founder of Bloomtools and the software and Internet expert on the Executive Team. With a degree in Advanced Information Technology, specialising in Computer Science and Interactive Development, James founded the software development arm of Bloomtools in 2004.
Connect via:
Twitter
LinkedIn