Website client raves about our Central Coast Bloomtools office
Posted on 22 March 2016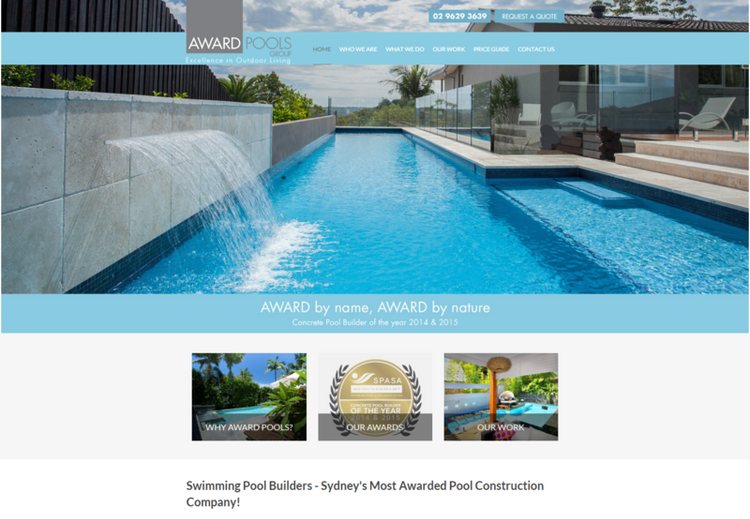 One of our offices, got such a rave review in an email from a very happy website client Award Pools Group who build and renovate some of the best pools around Sydney - we decided to just share it with you, as it came.
14th March 2016
To whom this may concern,
Award Pools Group has relied upon its website for the past 15 years to produce all of our work. It would produce approximately 30% of our work, the rest of our work is referral. We have no other form of advertising.
The original designer of Award Pools Group engaged some 15 years ago did a fantastic job as the internet was somewhat in its infant stage and Award Pools Group achieved a great result.
Sadly the person that designed the Award Pools Group website and managed it back then passed away, since then Award Pools Group had engaged no less than 3 different companies to design and manage the website.
Unfortunately on all 3 occasions the results were not achieved and there was no doubt that the 30% of work income was eroded.
Yvette Zocher from Bloomtools, North Sydney Central Coast office, was recommended to Award Pools Group via a friend. We meet with Yvette and immediately felt we were dealing with a professional whom was very understanding towards our needs and caring towards the outcome.
We entered into an agreement with Bloomtools and had numerous meetings to redesign our entire website.
During all of these meetings Yvette was nothing short of professional and all of her ideas were backed up by obviously a lot of experience.
We completed our website with Yvette and it has now gone live and we have also completed the training in updating of our website. The fact that we can now go in and change our website is vital in our line of work because our site is so visual and the pools we build change all the time.
This is just fantastic and means that we are in complete control of our site and we no longer rely on others to come to the office and ask what our needs are and then changing things and prolonging the process.
In a nut shell we can have a pool photographed today and have it on our website that afternoon.
All I can say is we are 100% happy with the overall outcome.
I have no hesitation in recommending Bloomtools to any company that wants to achieve a high level website which will no doubt create the results they require.
Yours Faithfully

Brad Baxter


Author:
Tracey Voyce
About: With more than 30 years business management experience, Tracey Voyce is the CEO of Bloomtools. Tracey has owned and managed many businesses and spent several years training and motivating coaches at the world's largest business coaching franchise.
Connect via:
LinkedIn