5 Reasons You Should Advertise on Facebook
Posted on 12 March 2021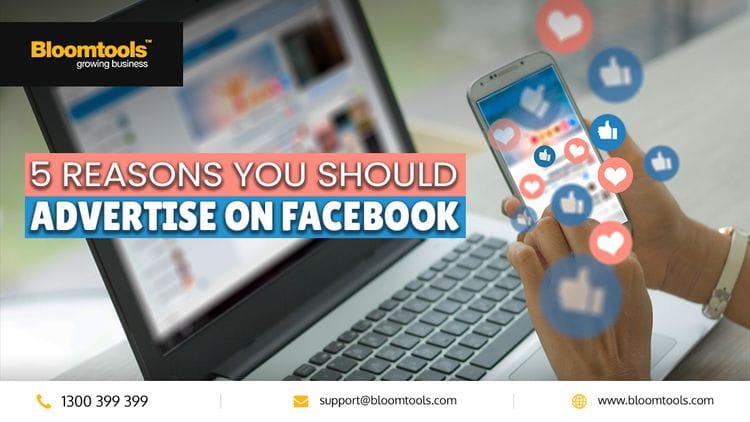 Facebook is more than just memes and cute dog videos, especially when it comes to using it for your business.
Social media platforms like Facebook are an essential aspect of most modern marketing strategies with the key purpose of sharing content, creating engagement with your customers and driving traffic through to your website.
While organic (unpaid) social media marketing is an effective addition to any business's marketing strategy, there's much to be said about the benefits of utilising paid advertising as well - and one of the best channels for doing so is Facebook.
96% of social media marketers consider Facebook as the channel that delivers the best return on investment. So, why should your business try Facebook advertising?
We've put together the top 5 reasons your business should advertise on Facebook:

1) Huge audience reach - your target market is already there!
Facebook's user base is incredibly large and growing consistently on a yearly basis - in 2020, there were 11.2 million users in Australia alone! Globally, the reach is much larger, with an audience of 1.49 billions and around 22 billion clicks on ads per year.
With a reach of this magnitude, it's guaranteed your target audience is on there to some extent. If not your current customers, those who you could convert to customers.

2) Work within your budget
Whether you're a small, medium or large size business, you have the ability to work within your own set budget.
Unlike many traditional marketing methods, social media advertising doesn't require a hefty budget in order to benefit (though a flexible budget is useful for maximum results). It also doesn't require a large, up-front payment in order to get started.
Once you've set your budget, Facebook will continue to show your ad until the limit of this budget is hit so you can rest assured you're only spending what you've budgeted for.
3) Intricate targeting options
Facebook has an extensive amount of information about its users - they even have insight to who is more likely to be one of your future customers.
Their advertising allows you to target the basic demographics such as age, gender and location. However, you also have the option to get even more specific by targeting through behaviour, interests and similar engagements on other posts, as well as lifestyle factors (job title, industry and marital status).
There's also the option for you to filter your ad based on recent purchases and life events.

4) Find new conversions easily
As mentioned in point 3, Facebook has insight into who is more likely to be a future customer of yours - with this information you can find new conversions and customers easier.
Once your ads have gained some traction and you've solidified an audience that converts well for your brand, this can be replicated to help you connect with a similar audience.
This is what's known as targeting lookalike audiences and it's an effective way to attract potential customers, even those unfamiliar with your brand, through to your page or website.
The lookalike audience option finds people most likely to make a purchase from you based on similar audiences and the previous purchasing behaviours of that audience.

5) Remarketing made easy
Remarketing is a method in which you reach a target audience who've interacted with you or your website in the past. Showing this particular audience your ad matters and this is why:
Despite the fact this audience has already viewed your business and not moved forward doesn't mean they still can't be marketed to. The fact they viewed your website means you piqued their interest at least a little bit, however, one touch point is often not enough to get a customer to convert.
This is where remarketing comes in - an additional touch point in the form of a targeted ad can help you push those particular customers through to the conversion aspect of the customer journey.
Consider how often you personally check your social media accounts or know of other people doing so - every time an individual goes on Facebook, they're seeing advertisements personally catered to their interests and buying habits. Think of your audience and whether you want to be reaching them in the same manner and if so, Facebook advertising is one of the most effective ways to do so.
If you're looking to get started in social media advertising or paid search marketing, our experts can help you get going. Feel free to get in touch with our website specialists on (07) 5636 3700 or book a consultation.