The 7 Do's & Don'ts of SEO Practices
Posted on 6 August 2020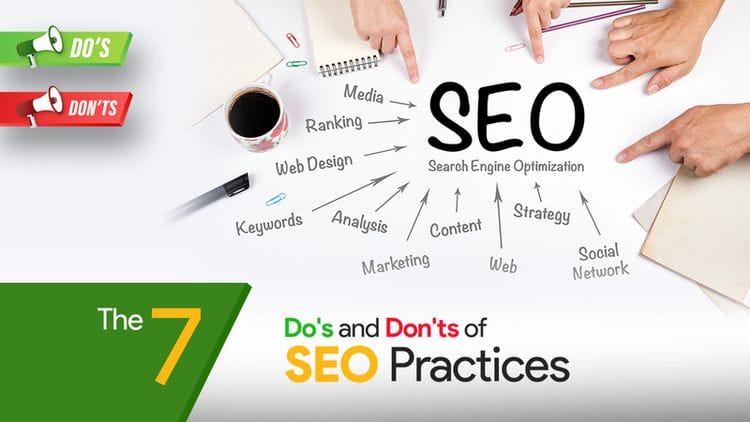 The complex world of search engine optimisation (SEO) is constantly evolving, with changes that have made some techniques outdated and obsolete. Knowledge of the current techniques are key to a successful SEO plan.
With that being said, we've compiled a list of the top do's and don'ts of SEO practices to ensure you're approaching SEO with the best practices in mind, helping you benefit from time and effort spent.
Why is SEO important?
Organic traffic covers a propionate amount of the digital space.
Ranking higher organically helps your website appear more credible to searchers.
Good SEO reflects a better user experience.
Increased rates of traffic, conversions and engagement levels.
When you prioritise efficient SEO practices, you can ensure your website is completely optimised for rankings in a way that avoids blacklisted techniques and avoids potentially having your website penalised.
1. DO - Keep your content updated and unique
Updating your website frequently lets Google know that your website is worth paying attention to. Search engine crawlers are thought to look favourably on websites which are frequently updated and the simplest way to accomplish this is through a regular content schedule.
Equally important is for this updated content to be unique and relevant to your site. You can do this by providing high-quality information to visitors to your website that properly reflects your expertise in your products or services.
Think about what you look for when you visit a website of a service or product you're considering doing business with - what answers do you look for? What do you need to know before you feel confident in following through with the purchase?
When you approach content with these questions in mind, you will be showing potential customers that you have the solutions to the problem they're trying to solve - the problem that brought them to the search engine to begin with.
Additionally, it helps to consider the user experience when writing content as well. The use of imagery or videos relevant to your content helps create informative pieces that garner greater attention span.
2. DO - Focus on Local SEO
Adopting a locally-focused approach in your SEO strategy means you're much more likely to appear higher in search results when users are searching for your services or products in the nearby area.
With 46% of all Google searches revolving around the search for local businesses, it's pretty clear why this is an essential aspect of your SEO strategy.
Local SEO gives you the opportunity to increase your visibility, boost your growth and engagement levels and drive your sales within your local community. Local SEO prioritises where your business is located and is essentially all "near you/near me" searches - which is a search conducted by 82% of smartphone shoppers.
To focus on your local SEO, consider implementing the following:
Claim your Google My Business listing (if you haven't done so already)
Manage your reviews
Consider locally orientated keywords
Prepare high quality content that revolves around the community - if you've recently sponsored a local sports team or been involved in a community event, writing content around this is a great way to optimise your content for local search
3. DO - Optimise for user experience & mobile
While user experience (UX) isn't a direct ranking factor, it's important your website is optimised for user experience, as a positive UX does influence where a website will ultimately rank.
The influence of UX stems from user signals. User signals, such as how long users spend engaging with your content, browsing through pages and even revisiting are all taken into consideration by ranking algorithms. These signals show your website is of quality to other searchers.
Additionally, over half of all searches conducted on search engines take place on a mobile phone, so ensuring your website is mobile responsive is essential and beneficial to the user experience. Mobile optimised sites are also favoured by the search engine crawlers.
For assistance in optimising your website for mobile, book a consultation with your local internet consultant.
4. DO - Use social media to your advantage
Much of what you can do with social media is free, making it one of the most advantageous, cost-effective marketing tools around. While social media isn't a direct ranking booster in itself, it does help.
One of the most simple ways to utilise social media in your SEO strategy is by creating and sharing content through your platforms - by focusing on quality content over quantity of content, you improve the chances it will be shared.
Did you know that nearly 60% of the Australian population are Facebook users and 1 in 3 use Instagram? These are huge numbers and huge potential audiences you can tap into. The more your content is shared, the greater chance it'll be used as a backlink by another website.
Earning backlinks boosts your SEO and increases your trustworthiness and authority in your field, opening up the opportunity for you to reach more leads.
5. DON'T - Try to cheat the system
Using black hat tricks and tactics is the fastest way to get your website flagged and penalised by Google. Tactics such as buying back-links, using hidden links and invisible text are actively penalised by search engines.
Additionally, spam based techniques don't work long-term and often don't help in the short-term either.
Paid link schemes may be considered a violation of Google's guidelines and it also includes behaviour that manipulates links such as commenting spam links in comment sections, participating in link farms and hiding links with invisible text.
Invisible text is putting written copy (as well as links) onto your website or keyword lists that are the same colour as the page background, making it "invisible" to the human eye but not to the search engine crawlerHowever, the ever-evolving crawlers are smart enough to pick up not only on this tactic, but the others as well.
It's not worth having your site punished by attempting quick fixes for organic rankings - SEO takes effort and time and these blacklisted techniques will only set you back in the long run.
6. DON'T - Keyword stuff
Stuffing your content with keywords in an attempt to rank higher is a big mistake and is also considered a spamming technique like those mentioned above.
Not only does this generally make for unreadable content, it's off putting and can result in you losing potential conversions. Remember you're not only creating content for the search engine crawlers - you're creating content for a human audience. If that content is unreadable or disengaging, it's not going to benefit your website in the long run.
Keywords can be included naturally throughout your content without being "stuffed and without potential penalisation from Google.
7. DON'T: Plagiarise your content
While it's generally thought that duplicating some of your own content won't get your website blacklisted, it certainly won't help you either. It's important to keep this in mind - it also goes against the notion of creating fresh and updated content.
Plagiarising your content from an external site is also frowned upon, particularly by search engines.
While it's not considered a blacklistable offence, the search engine crawlers are smart enough to decipher original content from that of which has been copied and republished.
SEO takes time and continued effort and often requires a long term approach before you really see positive results from your strategy. Keeping these tips at the forefront of your mind will help you avoid any costly errors that will waste your time and set your SEO journey backwards.
Key Takeaways:
The easiest step you can take is to keep your content up-to-date, unique and fresh - regular blog updates are the simplest way to do this.
Focus on local SEO which will help you tap into your nearby community for customers.
Social media is an advantageous, cost-effective tool and is easy for you to get on board with.
Ensure your website and all its pages are optimised for mobile and a smooth user experience.
Don't try and cheat the system with black-hat spamming techniques - they won't pay off in the long term.
Keyword stuffing and plagiarising content is not an efficient tactic.
If you're looking for some help with any of the above techniques, feel free to reach out to our SEO specialists for more information.