7 Tips for SEO Content Writing
Posted on 20 August 2020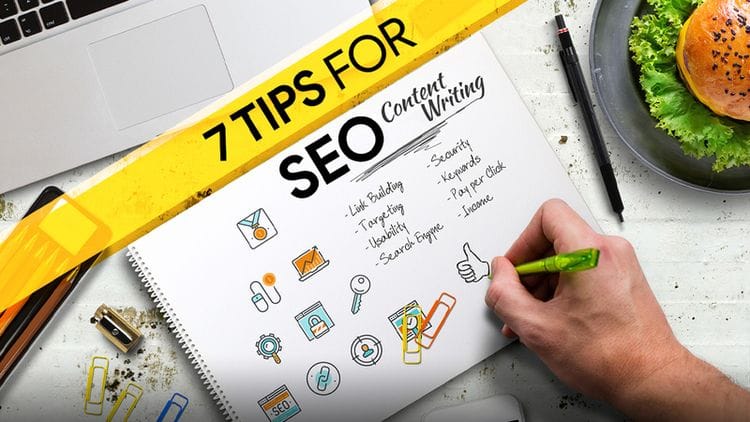 Creating engaging content can sometimes be challenging but it's undeniably a critical component of your SEO strategy. SEO-related content refers to material produced with the purpose of bringing in traffic and leads from organic search.
With the ever-changing digital space, content is without a doubt still integral to your SEO strategy - in fact, they tend to go hand in hand.
With the importance of SEO in mind, we've compiled the top 7 tips for content writing for search engine optimisation to help you thrive.
Why is it important to create SEO optimised content?
To attract greater amounts of web traffic.
To attain higher rankings in search engines and rank higher for the right keywords.
Improve your visibility in said search engines.
Encourages readers to take the desired action (eg. enquire about your services, sign up to your newsletter, etc.)
Helps further your backlinking strategy.
Increase your authority as a leader in your industry/field.
Create a more positive, seamless user experience.
Tips for SEO content writing:
Writing effective SEO content can be a difficult task and can take a fair amount of practice to get down pat. We've compiled some tips that you can keep at the forefront of your mind next time you approach your content creation.
1. Find appropriate keywords
Keyword research is the process of identifying popular phrases and words frequently used as search queries by your target audiences. It's generally the first step in getting started with SEO content. It helps you prioritise what topics to create content around and to optimise your site with.
Because they work as a way to optimise your site, it's important to make sure they are in the right places for the search engine to find them. Some examples of the top places to put your keywords for SEO are below:
Within the URL
In title tags
In your meta-description tags
In image & video file names
In image alt attributes
Using question-based keywords is also an efficient tactic. 8% of searches are phrased as questions, which might not seem like a huge amount in theory, but that's an attitude that will allow you to miss out on 8% of searches. Every search query is worth aiming to answer if it relates to your product or service.
It's also helpful to keep your keywords as a reference - they can help generate ideas for you to frame your content around. If you want any help ensuring your keywords are in the right places to optimise your site, contact our team for an SEO review.
2. Optimise your titles and headings for the search result pages
Your titles and headings are your first impression. Most people will read your headline, but only a percentage of those people will read the rest of the content. Creating an enticing headline will help attract people to continue reading.
Keep your headlines clear and to the point while accurately depicting what the article is about.
This is also the prime opportunity to insert a keyword which helps search engines consider your article or blog as worthwhile when that particular keyword is triggered.
In addition to clear and concise headlines, studies have shown that numbers, particularly those that are odd, appeal to readers due to its specificity and also that it indicates a skimmable list.
3. Consider the user experience
Readability plays a big factor in your content - and we're not just referring to the topic at hand or how engaging the content is. Readability in this instance is referring to the structure of your content and how it's laid out for the reader.
Readability is particularly important in today's digital world due to the sheer extent of content that exists online and today's limited attention spans. In order to counteract skim readers, you have to outline your content in a way that your information can be digested by even those who skim through it.
You can do this by implementing the following:
Subheadings: they're helpful in guiding your reader through the article.
Bullet points lists or bullet points for key information.
Numbered lists
Shorter paragraphs
Users are less inclined to leave the website or article completely if the information can be digested and read easily.
4. Don't keyword stuff!
Think about your audience again - they're human beings, right? It's important to not think too much about the search engine when writing your content - at the end of the day, you're still writing it for people to read. This means, if you keyword stuff and your content becomes unintelligible, it can be off-putting to your audience.
If you're focusing on a particular topic, it's more than likely you can entwine your keywords throughout in a way that allows the content to flow and sound natural.
Additionally, search engine crawlers are smart enough now to pick up on keyword stuffing and you could find your website blacklisted for engaging in frowned upon, blacklist-able SEO techniques.
5. Remember your meta descriptions
Meta descriptions are a 160 character paragraph that summarises the content of your webpage. While search engines don't seek these out directly, meta descriptions are one of the first things that potential readers will see as they show up underneath your page title in the search engine.
If you don't create your own meta description, the search engine will generate one for you automatically. However, this isn't necessarily a good thing. If you create it yourself, you can ensure it markets the content you're publishing correctly and contains keywords required to optimise for SEO.
6. Build a backlinking strategy
Backlinks are simply just a link from one website to another - so why should you build them?
Backlinks remain an important indicator that you're a trustworthy site to Google's search crawlers, helping to rank sites for keywords. 43.7% of the top-ranking pages have some sort of reciprocal links, so while it takes time and effort to build a strong backlinking strategy, it's worth it.
While SEO needs backlinks, content is what helps introduce and generate them. You can create backlinks by creating content that references (links) another website of quality - alternatively, by creating quality content, you increase the opportunity that your website will be referenced on someone else's site.
One of the simplest ways to build backlinks is by frequently updating your blogs: frequently updated blogs generate 97% more backlinks!
The following content ideas are great ways to get started with backlinking:
How-to's
Lists (informative or important tips)
Guest blogging on an industry partner/supplier's website (they can reference your website via a link in return)
Create videos
7. Include visuals
While it's not exactly "writing content", it's still very important to SEO content.
Visuals help draw reader's eyes to key points, keeps them interested and increases the potential they will stay on your page for a longer period of time.
As mentioned earlier, skim reading is an issue when it comes to having your content read. Another way you can overcome this is through visuals that counteract or slow down the skimmer.
Additionally, the human brain processes visual data at greater speeds and efficiency than text; 90% of information transmitted to the brain is visual.
What types of content can you create for SEO purposes?
Blog posts
Lists
Videos
How-to-guides
Infographics
Key takeaways:
Keyword research is generally the first and most important step of the SEO content process
Optimise content titles and headings with keywords to help search engines identify your article for that particular keyword
User experience is important when it comes to content - make your content readability a priority, especially to counteract skimming
Avoid blackhat techniques such as keyword stuffing
Create your own meta descriptions and use this as another keyword optimisation opportunity
Start your backlinking strategy if you haven't already - this is a strong signal of trustworthiness and legitimacy to the search engine crawlers
SEO content takes time and effort but ultimately pays off!


If you want some extra help maximising your SEO content strategy this year, feel free to reach out to one of your internet marketing specialists on (07) 5636 3700 for more information, or book a consultation today.