7 Ways A Blog Can Help Grow Your Business
Posted on 12 November 2020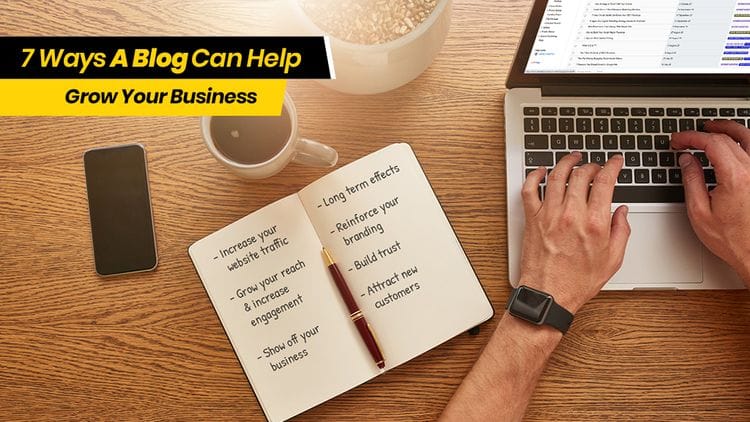 Are you looking for ways to grow your website traffic, attract new leads and strengthen your customer loyalty?
A simple and effective way to take steps towards these goals is through having a blog on your website.
Even though there's a growing range of digital marketing tools available, the blog is still a vital part of marketing strategies globally; from the smallest business to the big named brands you know and love. Recent surveys revealed that 75% of internet users said they read blogs regularly, supporting the fact that blogging offers a sizable opportunity for business to engage with their audiences.
Creating blog content is as simple as using your knowledge and expertise in a creative manner.
1. Grow your reach & increase engagement
Shareability is a key benefit of blog content (and also means it saves you time and effort!).
When you create quality content on a regular basis, it can be shared through different avenues. For example: sharing the link to your blog on social media or to another marketing channel such as your email marketing campaigns.
It's one of the most simple and effective ways to grow your reach and spread brand awareness about your business.
Additionally, 70% of people prefer to learn about a company through articles rather than advertisements so your blogs will speak for themselves.
2. Increase your website traffic
Another additional perk of blog shareability is increased website traffic. Blogs as a component of a marketing strategy has seen some businesses increase their monthly leads by 126% in comparison to those who don't blog.
Once you've created a piece of content for your website, this can then be shared to your social media channels and through your email marketing, all of which drives visitors to your website. Additionally, this allows your audience to share your content further, either on their own social channels or as a link from their websites.
In addition, blogs can help improve your search engine rankings, improving your visibility in the search engine, allowing organic traffic to find you easier.
The more high quality, interesting content you have, the longer and more recurring visits you'll recieve on your website - all of which open opportunities for conversions and sales.
When creating your blog content, it's most effective to keep in mind whether your content is informative, knowledgeable and provides answers to customer queries and problems.
3. Show off your business
Think of your blog as a portfolio of not only your businesses work and what you do, but also a way to show off your expertise. Creating relevant content with information your audience wants and needs is a simple action helping you be known as an industry expert.
Additionally, you can create content regarding success stories you've had with previous and current clients. Having proof or something to show of your past successes is an easy, effective way to show potential clients what you can do for them.
4. Long term effects
Marketing generally requires quite a lot of effort; one of the perks of blogging as part of your strategy is that blogs have the ability to withstand the test of time.
Continual, regular blogging will overtime build a strong foundation in which you can build your marketing strategy around.
You can also re-invigorate old content at a later date, freshening up the content and turning it into another masterpiece.
5. Reinforce your branding
Think of your blog as an opportunity to introduce your brand's personality. When you're not face-to-face with clients, your blog speaks for you and creates personality through word, photographs and any other embedded content within your blog.
By keeping your colour palette, style and tone of voice as a continuous component within your blogs, you can strengthen the brand connection with your customers. Once customers can relate to your business, their loyalty will follow.
6. Build trust
As mentioned beforehand, blogs exist essentially as a portfolio of your work. When you can show your clients what you're capable of and how you've helped others, it helps encourage others to follow through with the conversion process.
Don't be afraid to use your blog as a way of showing potential clients who you are, what you know and how you can help them more so than your competitors. You can start building a foundation for a relationship this way.
When you start off a relationship with clients on a strong foundation, you have the chance to turn them into a loyal, returning client.
7. Attract new customers
With all the above points considered, blogs are an effective method of attracting new customers.
When you increase your web traffic, you ultimately increase the opportunity to attract new customers. Showing that you're knowledgeable and an authoritative figure in your industry will lead potential clients to the direction of your website.
Key takeaways:
Blogging is a simple way to help build your business
Increase your website traffic with informative, engaging content that helps answer your client's problems and queries
With increased traffic, you ultimately can attract and gain more customers.
Blogs are highly shareable which means, growing your reach further.
Build a solid foundation of trust between you and potential clients.

Getting started with a blog can be an intimidating step to take but one that is nonetheless rewarding. While it takes time and effort, the long term outcomes of blogs are undeniable and worthy of attributing some of your marketing efforts towards.
Don't miss out on reaching your customers and gaining new ones - a simple marketing tactic can benefit your business in unprecedented ways.
If you need help with producing content and blogs for your website that will help grow your business, feel free to get in touch with our digital marketing specialists on (07) 5636 3700 or book a consultation.