Avoid These 7 Small Business Marketing Mistakes
Posted on 24 September 2020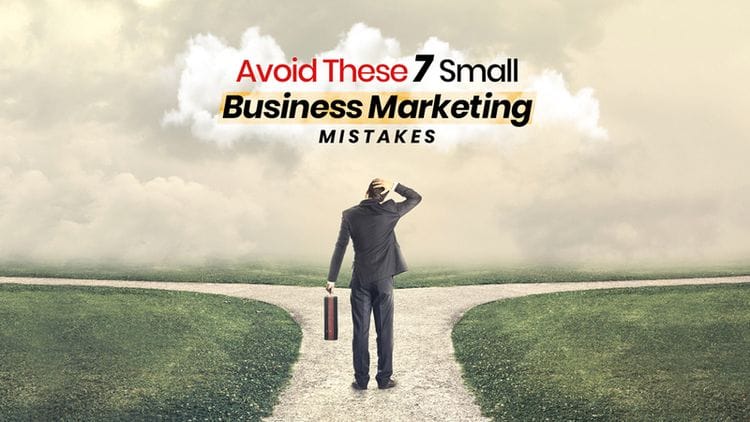 For small businesses, there's often little room for error when it comes to marketing.
With the new financial year in full swing, this is usually the time businesses will set fresh, new goals for the upcoming year; it's a time to rectify mistakes made in the past, applying this new found knowledge to come up with more effective approaches.
With this being said, we've compiled a list of the most common small business marketing mistakes to help you avoid any pitfalls.
1. Not having a marketing plan
Having a clear strategy in place and finding success with your marketing approach is often a package deal. Unfortunately, it's impossible to succeed without a plan - engaging in random acts of marketing won't reap you the results you're hoping for.
With a proper plan, you can prevent poor performance. We understand that time and budgets are often limited, creating the urge to skip as many unnecessary steps for marketing as possible. However, this can be at the detriment of your success.
A recent study showed that the most successful content marketers had written out content plans and were twice as likely to report their marketing was effective compared to those who didn't have a written out marketing plan.
In order to understand what successful marketing looks like to your business, you also have to have goals in place that you can measure your results against. Your plan should include these performance goals as a foundation in which the strategy is crafted and executed around.
2. Not knowing your unique proposition value
Ask yourself: why should a potential customer or client choose you over your competitors?
If you're not sure how to answer this question, you most likely don't have a clear and strong marketing strategy in place. Knowing your unique proposition value, alternatively known as unique selling value, can help you create key messages you want to pass on to your audiences.
Take a look at your business, the services or products you offer, and find what makes you unique; think about how you'll benefit your customers and how you can do this better than your competitors.
Once you know what it is that's special about your business, you can start incorporating this within your marketing efforts and spread this uniqueness through our marketing messages.
3. Not targeting your relevant audiences
In order to market your product or services appropriately, you have to be aware of who your relevant audiences are.
While it's okay you can have an idea of who your ideal customer is, keeping an open mind about your audience will help you avoid being hyper focused on a specific type of person. Focusing too much on your ideal customer can sometimes leave your marketing efforts misaligned with who your actual customers are.
Take a look at who's engaged with your business - is it the "ideal customer" your previous marketing efforts have been targeting or is it an entirely different audience?
If you're a brick and mortar business, consider who you see visiting most often. Do they fit the specifics of the "ideal customer"?
Say you own a cafe and have been targeting trendy hipsters in the area, however, you're located nearby a retirement home and you mostly have retirees and sometimes their families visiting. As a result, your product of trendy foods are falling flat, when good coffee and finger foods are performing best. Rethinking your audience can help you save money and time, allowing you to focus on the aspects of your business that are bringing you a return on investment.
Additionally, trying to market to everyone is an easy way for your marketing efforts to go to waste - you can't appeal to every single person, so knowing who engages with your business the most, who your repeat buyers are and focusing on them is the most efficient way to target a market.
4. Not having a sufficient marketing budget
This can be a tough one. Often small businesses consider marketing as an expense rather than an investment in their growth. When marketing is viewed as nothing more than a cost, budgets usually end up trimmed or non-existent.
Unfortunately, to get your business name out there, build trust with your audience and establish credibility in your industry, you have to invest both financially and time wise.
In order to find success, you have to keep in mind that marketing is an investment; it's an investment in creating visibility for your brand and increasing the generation of leads and sales you receive.
5. Not looking at competitor marketing
While focusing on your own marketing should be your number one priority, it's still important to keep informed about what your competitors are doing as well. Changes happen so quickly in the market - it's possible you might miss new or rising trends in your industry.
Even if these competitors don't exist directly in your community, but rather exist in your industry elsewhere, you can find businesses like yours that are doing well with their marketing efforts. Taking note of what they're doing can help you brainstorm ideas for yourself or help you identify trends that will be useful for you.
Additionally, you can save time and avoid wasting money by watching these competitor strategies, as it can give you an idea of the approaches that work and help you dodge the ones that don't.
6. Ignoring your current or previous customers
Acquiring a new customer is expensive. When you choose not to invest in fostering long term relationships with customers after the initial sale, you're missing out.
Building relationships with loyal customers is important and an extremely economical business move - it costs 6 to 7 times more to acquire a new customer than to retain an existing one.
As part of your strategy, it's important to consider the approaches you will take to nurture previous customers, continuing to connect with them and offering additional value. You could regularly offer existing customers additional products or services, or remind them you're grateful they chose you.
The path to success comes from focusing on both new and existing customers - not one or the other.
7. Not measuring and analysing your data
Your campaign data is like gold to your business. Not only do these results give you greater insight to your audience, but this data shows the tactics in your strategy that are most effective.
These insights allow you to hone in on the most efficient elements, discarding the tactics that aren't working and focusing your limited resources on the ones that do work.
Not giving this data attention can result in your marketing becoming a cost rather than an investment with a return.
As mentioned in point 1, having clear goals in place from the initial development of your marketing plan will help you decide what data you should measure and analyse. Ultimately, this will all help you evaluate what success looks like to your business.
Conclusion
Overall, your marketing is an important aspect of your business. You don't have to spend every spare cent you have nor do you have to spend all your spare time doing it. What's most vital is planning, engaging the right audiences, keeping track of your results and leveraging what's most effective for your business.
With these tips in mind, you can realign your marketing strategy with your new goals and find success in doing so.
If you're looking for assistance in getting your marketing plan up and running, learn more about our digital marketing services or get in touch with us on (07) 5636 3700 or book a consultation today for more information.