Bloomtools and OneSass: we're making your business life a little simpler
Posted on 6 November 2014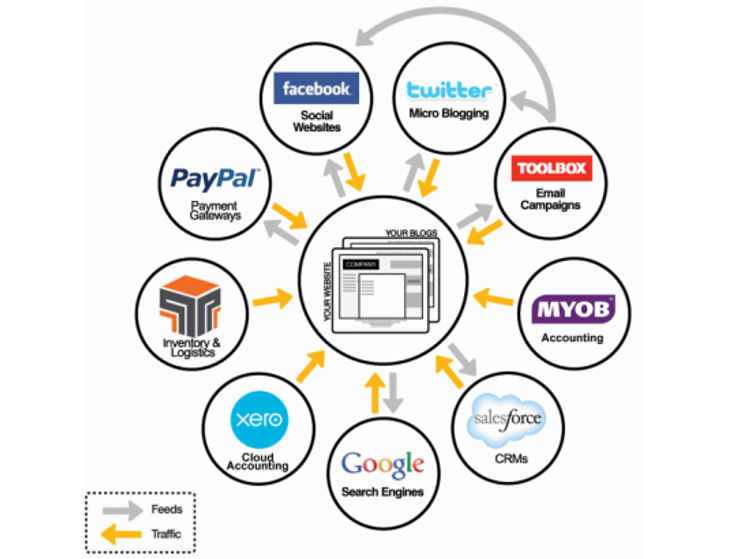 The new and exciting collaboration between Bloomtools and Onesaas means you can now integrate your Bloomtools solution with your other primary systems - Accounting, Stock Control, CRM and more.
We have all seen how the Internet has progressed over time; priorities changing from simply having a presence to now reaching for real results for your business - whether it be to increase sales, build loyalty with your existing clients, streamline your business or more. Now it goes to a new level, where your primary business systems can all work together and transfer data from one system to another - sycronizing all data across your business.
Imagine having your business set up in a way that enabled data to be collected from one source and synchronised automatically to another, whether it be your contacts, sales orders, billing and invoicing data or product information. You no longer need to manually take data out of one system and input it into another, or pull off a .csv file to do this.... now it all can be integrated and automatic!
Bloomtools has been working with OneSaas to take our solutions for our clients to the next level, integrating with over 50 other products in the market. The most popular products include: MYOB, QuickBooks, Xero, Google Contacts, Shoeboxed.com, SalesForce, ZOHO, IVvy, Retail Express.
"Through the Bloomtools proprietory products Bloomtools clients already enjoy being able to have a high level of functionality accross multiple tools through one login and one database. Including all Bloomtools products from Websites, Mobile Websites, Shopping Carts, Blogs, Email Marketing, Surveys, Event Management, CRM, Donations, Fundraising and more - which for many these have been added on over time as their budget, understanding and buisness have evolved. Now with OneSaas, we can take our clients to a new level," says James Greig, "and I am proud that we are enabling small to medium sized businesses around Australia to do business more efficiently and effectively."
To top it off, it is inexpensive, easy to set up and will add so much more value to your business. To find out more, please check out OneSaas and talk to your Bloomtools Consultant.


Author:
Tracey Voyce
About: With more than 30 years business management experience, Tracey Voyce is the CEO of Bloomtools. Tracey has owned and managed many businesses and spent several years training and motivating coaches at the world's largest business coaching franchise.
Connect via:
LinkedIn