Building Your 2021 Marketing Strategy
Posted on 21 January 2021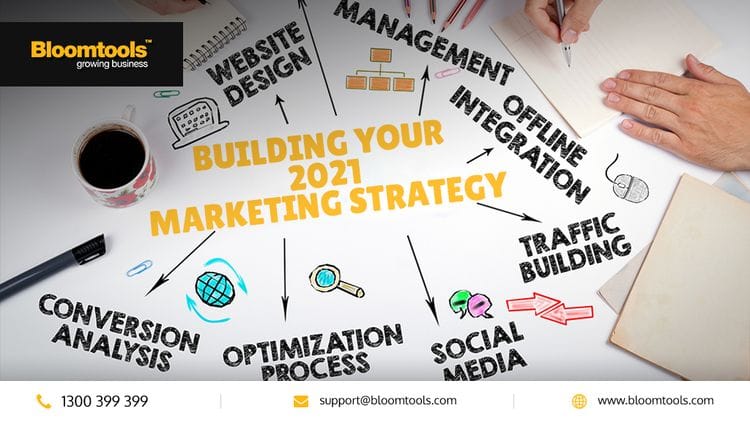 With the trials and tribulations of last year, it's understandable if you or your team didn't have the time to think about 2021's marketing strategy. With the new year in full swing, now's a great opportunity to brainstorm and consider any changes you might need to make.
While you don't have to change your entire strategy, especially if what you're doing is helping you meet your goals, it can help to have a fresh look at certain aspects of your approach to see how you can grow your business even further.
With this in mind, we've compiled a list of tips to help you get started with a fresh approach to your digital marketing strategy.
1. Review your data first
New year, new marketing plan - but that doesn't mean all attributes of your previous marketing plan need to go out the window. Reviewing your data can help you decide what's really working for your business and what isn't, allowing you to keep the good things and move on from the aspects that aren't serving your business.
Keep your data handy at all times to help you make the most valuable decisions going forward.
2. Consider your objectives
While your business most likely has an overall objective and goals to work towards, mapping out your marketing objectives separately will help you determine whether they're addressing and working towards the overall objective of your business.
It's as easy as starting with two to three marketing objectives!
If your business's overall objective is something along the lines of "to best serve your customers" then your marketing objectives can find ways to help fulfil this. For example, a marketing objective could be: "improve website experience", "improve mobile loading speed" or "build stronger relationships with customers".
Looking at what your previous data is saying is also helpful to make sure that the objectives you have in mind are achievable for where your digital marketing strategy is currently at. Once you've decided on your objectives, you can align your measurable goals with these ideas.
3. Review your audience segments
If you're a fresh business, this point might not be for you - however, if your business is well established and has been operating for a long period of time, reviewing your audience may be beneficial.
As time passes, buyer personas change along the way, which means your audience segmentation might need to as well.
Say you've been in operation for 20 years and haven't reviewed your segmentation since then - it's likely your audience has changed. It's healthy and recommended to re-check this information regularly and make sure your current data still validates the audience segmentation you have in place.
This will help save you from wasting money on people who aren't buying, especially if that is supported by what your data is saying. You might even find audiences you aren't targeting heavily are purchasing more or you may discover an audience is not as active as you once thought, so you can realign your strategy to appeal to those people more.
4. Align Your KPI's
Once you establish your objectives, it's important to set some goals - it's extra important that these goals are measurable so you can know when you're hitting them.
For example: "increasing traffic to the website" isn't a measurable goal. However, "increasing traffic by 20%" is a measurable goal.
The more specific you can be about your goals, the easier it'll be to help you put them into action.
Knowing you want to hit the goal of increasing website traffic by 20% will help you decide the best steps towards achieving this outcome. For example: implementing social media advertising for a period of 6 months or posting one blog per week on the website with search engine optimisation.
5. Try them out!
Now you've got some new ideas ready to go, it's time to try them out.
The most exciting part of implementing new aspects to your 2021 strategy is the ability to test. Testing is something we should always be doing and once you've built your objectives, audiences and KPI's, you'll know the steps to action and test, leading you down the right path to achieving the best results.
Whether you're dabbling in more content writing, starting different social media campaigns or trying out paid advertising - remember to always review your data and realign your strategy when something isn't working out as well as you'd planned.
If you want help implementing any of the above mentioned elements on your website, feel free to get in touch with our website specialists on (07) 5636 3700 or book a consultation.