Client spotlight - Acrylics Online
Posted on 18 July 2012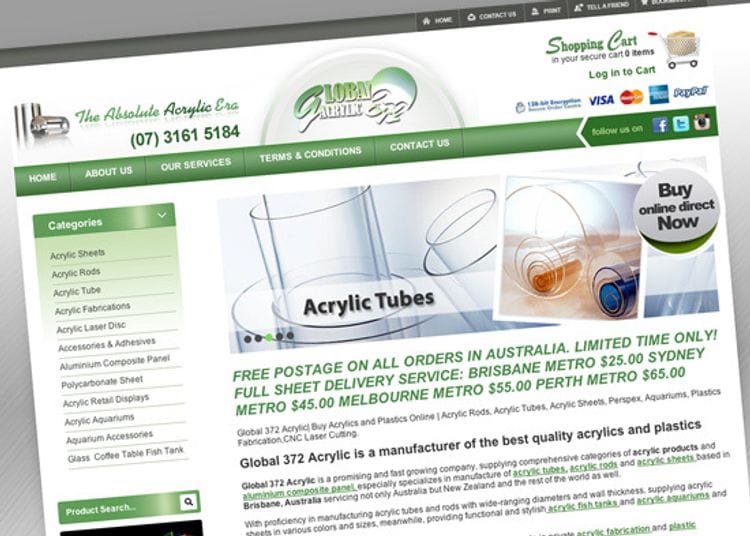 Global 372 Acrylic wants to say a big "thank you" to Bloomtools for making life so much easier and increasing their sales. Customers can now buy Acrylic products online and, with orders increasing daily, the owner is thrilled with the results of their new website and Shopping Cart solution.
Within seconds, visitors are clear on what Global 372 Acrylic provides and how it can be found, thanks to the efficiently designed website for Acrylics Online.
Global 372 Acrylic specialises in manufacturing Acrylic extruded rods, tubes and cast sheet for commercial display, lighting and decoration. A wide range of grades and colours are available in standard and custom sizes.
Who knew acrylic had so many uses and purposes? A list of categories quickly and easily points to a range of products - from Perspex tubes and polycarbonate sheets to aquarium fish tanks. Acrylic can be moulded into all manner of forms to help your business maintain a more polished appearance with stylish display items and fittings.
Global 372 Acrylic previously had a standard website with a rolling banner. It was an information-only website with no e-commerce (Shopping Cart) facility. The company was trading within the eBay marketplace, but the owner of Global 372 Acrylic wanted to give his existing and new customers the ability to find out more about them and shop for items, all within one location.
Global was advised to get in touch with Bloomtools by one of its website success stories clients, which already had two websites set up with Bloomtools and was really happy with the results.

The website went live just before Easter this year and Global started doing SEO immediately because that's a crucial aspect for Shopping Cart success. Global also began building a database to support its marketing initiatives. Now, Global has become so popular, more and more orders are coming in every day.