Client spotlight - ATEC
Posted on 25 July 2012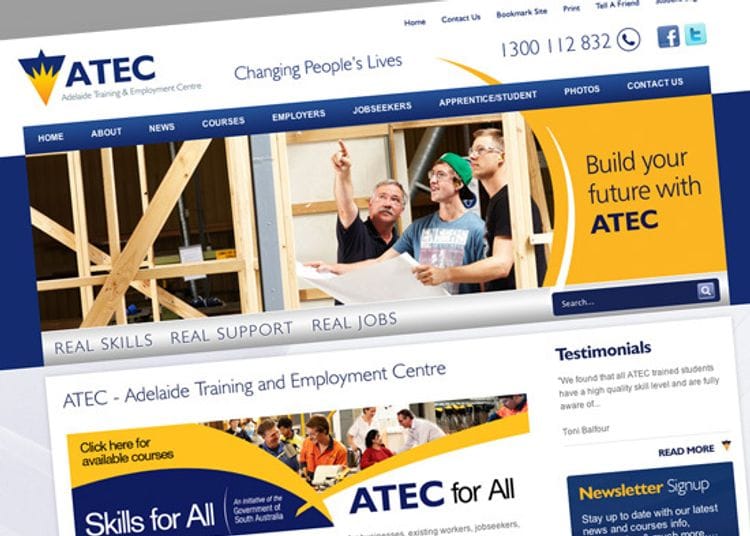 You get a real feeling of being looked after the moment you arrive at the Adelaide Training & Employment Centre (ATEC) website. Appealing images of people being mentored in a nurturing capacity is your first taste of what ATEC can do for you. Combine this with a quick explanation of the business (so you instantly know who they are and what they do), an easy-to-find contact number (primary call to action) and a positive testimonial (overcoming fears, while showing their strengths) and you have the beginnings of a website winner!
It's one thing to have an awesome business that supplies top-notch goods and services, but it's quite another to be able to promote yourself successfully. You could be among the best in the biz, but there's no point sitting on top of that mountain if no one knows how to find you.
ATEC was one such company. The former website wasn't helping to improve the business. People weren't getting the message about ATEC's strengths in the market and while the website had been extremely difficult to update, it was also proving unable to generate leads.
ATEC provides skills training across a wide range of qualifications for existing workers, jobseekers and school students and apprentices as well as apprenticeship and recruitment services for businesses. From engineering, construction, electrical, mechanical and OH&S to health and community services, ATEC is an approved Skills for All provider.
The South Australian company is now a huge fan of its Bloomtools-built website, which provides ATEC with everything it was missing, plus loads more communication and interactive tools for their website. Potential clients can sign up for a regular newsletter and download a training booklet to find out the best course to suit their needs.
"Working with Bloomtools has been an easy and enjoyable process," says Karina Hille, marketing coordinator at ATEC.
"No request is ever too much. Not only has Bloomtools created a visually impressive website for our company, but it our website is easy to update and has a whole range of back-office functions that allow us to maintain contact with new and existing clients.
"I cannot recommend Bloomtools and our Internet consultant Andrew Osborn in Adelaide highly enough."