Client Spotlight - Base Zero
Posted on 22 August 2012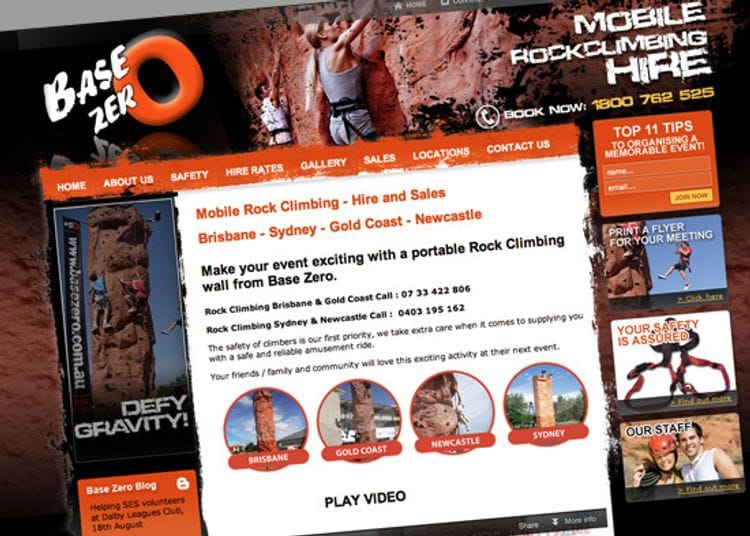 Here's an idea for a thrilling event experience... Rock climbing may not be a sport that first comes to mind when you're planning a corporate event, fundraiser, trade show or Christmas party, but mobile rock climbing walls for hire and sales operator Base Zero is up for the challenge to change that perception. A strategic step in the right direction has been bringing on Bloomtools to help Base Zero reach its goals by creating a fully functional, attractive and easily updatable website.
When Base Zero approached Bloomtools, the company only supplied portable rock-climbing walls to locations around Brisbane, but within a year of the new website going live it had expanded to an outlet in Sydney and is now able to facilitate the Gold Coast, Newcastle and Canberra regions.
Base Zero capitalises on the fact that most people love a thrill and the chance to expend some energy on a new adventure. With up to 80 climbers per hour in a 6m x 8m operating space, many people have been surprising themselves with their rock climbing abilities.
While hiring to schools, corporate, charities and youth groups is a big part of Base Zero's business it has launched its own line of mobile, stationary and custom-designed rock climbing fitouts and interactive amusements, which can be installed both indoor and out. Staff are all fully certified, trained industry professionals who are able to maintain safe climbing environments for kids and adults from 20kg to 120kg.
"Bloomtools is predominantly the reason for our increased profits over the past two years, since we approached the company to build a website that better reflected our level of professionalism and showed what we did and who we were," says Base Zero owner/operator Wade Morse, who is proud of being a Bloomtools website Success Story.
"I was constantly frustrated at the process of updating our old website and the costs involved each and every time I wanted to make even the smallest change. Plus, I love Bloomtools' online educational workshops, webinars and advice as it has all helped expand the business.
"Customer enquiries have grown by 75% and our sales have more than doubled since 2010."
Highlighting the benefits of a healthy lifestyle is part of Base Zero's philosophy and, to maintain a safe and comfortable climbing environment, the team at Base Zero offers servicing, training, parts and manufacturer's warranties on all rock climbing walls and equipment.