Client Spotlight - Digital Exchange
Posted on 8 August 2011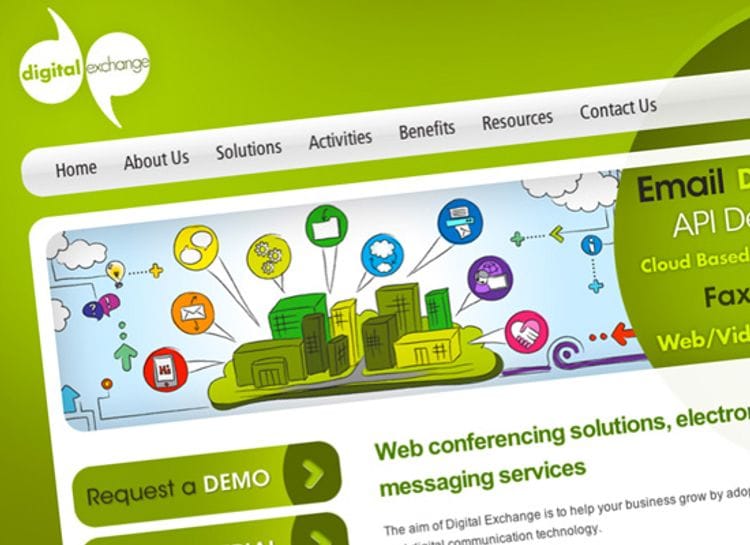 There are so many reasons why we love this website design. For starters, the colour choice is brilliant! The decision to go with a green theme was gutsy but effective. It's a fun and engaging colour, distinct from the more corporate blues and reds we usually find in the branding of businesses offering digital solutions. The rounded corners and hand drawn top banner lend a very organic feel to the overall aesthetic and there is something very eye catching about the giant quotation mark that breaks up an otherwise two dimensional image.

In regards to layout, there has been a lot of thought put into the making of this website. Again, we see the phone number placed to the top right hand of the webpage, a very strategic decision for a company who's primary mode of contact is via the phone. Down the left hand real estate we have some distinct Calls to Action including requests for demos, free trials and promos. These link to online forms that integrate with the client's Database Marketing account, allowing them to build their Contact Database, target Email Marketing and SMS Marketing campaigns and help generate more leads and sales from the 9/10 people who will visit their website and not take immediate action. A dynamic promo box below these advertises the clients upcoming events, valuable where events are a major part of the company's marketing plan.

At the bottom of the page we find all the major Social Media syndication tools including the Tweet button (for tweeting this website to your followers), the Google +1 button (to help improve the website's Search Engine Optimisation), and links to their Twitter, Facebook and Linked-In accounts (to encourage their website traffic to follow their online activities via their own social media accounts). Clever positioning of these features will encourage their website visitors to become actively engaged in the company's online activities and improve the ROI of their online marketing.

At the very least, this is a stunning website to look at, but some very intelligent use of real-estate as well as our various website add-on tools will also make this website very effective at generating leads and sales for the client. Is this the type of website you'd like? Then Contact Us today for a chat and quote.