Client Spotlight - Digital Lollipop
Posted on 29 November 2012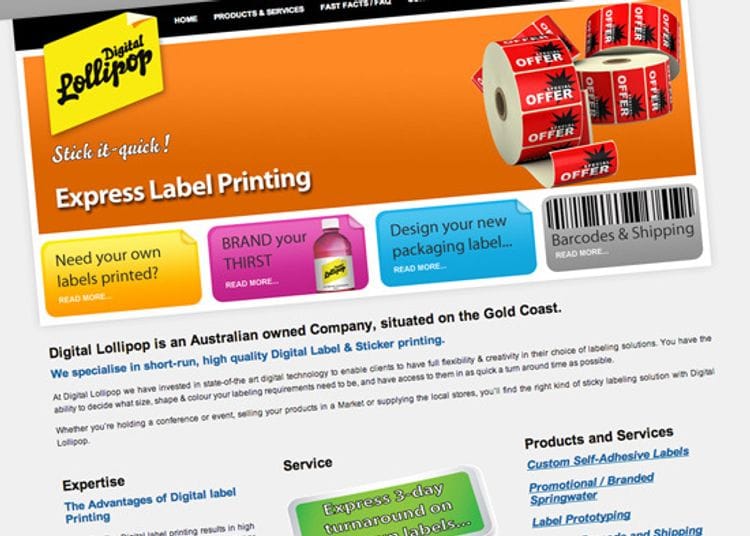 When it comes to sticky-labelling, look no further than Gold Coast-based Digital Lollipop to provide you with high-quality labels and stickers. Until recently, if you had looked on the web for these fantastic state-of-the-art express digitally printed products, Digital Lollipop was nowhere to be seen.
To bring consistency to the look and feel of its one-year-old brand, Digital Lollipop enlisted Bloomtools' to develop a great-looking website to promote its labelling products. With the capacity for 16 million colours, Digital Lollipop's digital technology provides clients with creative stickers for their corporate conferences and events, social functions or product sales.
"I had a business referral to use Bloomtools and considering my future plans for Digital Lollipop, I was looking at the Bloomtools' type of website as 'investment protection'," says Director Tony Bogatie, of being able to manage the website himself.
"Our products are highly customised so it wasn't so much of an online shopfront we were looking for but, more simply, just a web presence itself. A Bloomtools website appealed to us because of its ease of use and also because we could customise and edit the website content when we wanted, how we wanted it and see the results as soon as we wanted.
Bogatie refers to "investment protection" when he talks about future plans for the business and website.
"If Digital Lollipop was to implement an online web store down the line, we can add a Shopping Cart simply to the system we already have," he says. "We want the business to be dynamic and be able to react to customer demands and we needed a website that reflected this."
Digital Lollipop uses the website for quotes and sales referrals, and Bogatie favours the Promo Boxes to use as highly visible links to other pages.
"I love the look of our website! And I love being able to make alterations myself," says Bogatie.


Author:
Tracey Voyce
About: With more than 30 years business management experience, Tracey Voyce is the CEO of Bloomtools. Tracey has owned and managed many businesses and spent several years training and motivating coaches at the world's largest business coaching franchise.
Connect via:
LinkedIn