Client Spotlight - DOOG
Posted on 26 September 2012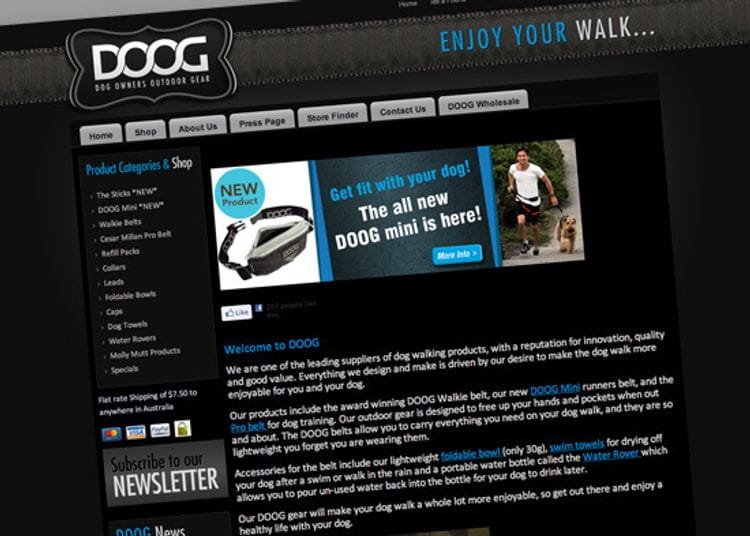 The average domestic dog isn't just an animal, but part of the family, which was the motivation for DOOG (Dog Owners Outdoor Gear) to become part of the booming industry built around the care of your canine companion - and it operates a website aimed directly at this market.
DOOG, a leading supplier of dog walking products including a Pro Belt designed with the help of famed Dog Whisperer Cesar Millan, has a website that sells a range of doggy devices - from leads, collars and foldable, portable water bowls to dog bed duvets.
The DOOG website aims to create a dynamic whereby both pet and owner have a more enjoyable walking experience. There are products to benefit your fitness routine, with a belt that makes it easier to run with your pooch. You can hang balls from it and clip on a dog lead and bowl.
Jamie Knight, owner/operator of DOOG, says that he chose Bloomtools to build the new website to accommodate the business's growing product list.
"The ongoing costs of updating the previous one were proving too much to maintain as we had no control over it ourselves," he says.
"The new website is much easier to navigate and update, and this is especially important to help me keep abreast of the Shopping Cart invoices and back end," says Knight. "It's now very user-friendly and you can go straight to the Shopping Cart from the homepage, which is great for business."
Knight says he is getting great results from the Bloomtools-built website.
"We've received more than 4500 unique visitors this month, a figure that has doubled from the response to the previous website.
"We have been increasing our product range and it's been great being able to add the new merchandise ourselves. I'd say our revenue has increased about 30% since the website's launch."