Client Spotlight - MDH Beef
Posted on 9 October 2012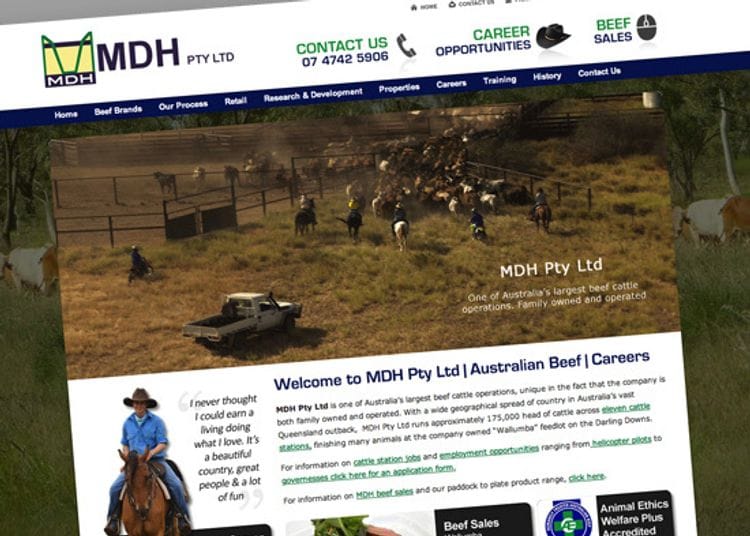 Running around 175,000 head of cattle on an area close to 3.4 million hectares takes a lot of work - and it's work that's foremost in the mind of MDH Beef owner/operators the McDonald family of remote Brightlands and Devoncourt Cattle Stations, near Cloncurry, about 160km south-east of Mt Isa in Queensland's north.
Genevieve McDonald, who lives at Brightlands Station, says that the new website is predominantly used for the recruitment of staff but it is also aimed at promoting the McDonald's beef brands and cattle operations to national and international meat buyers.
Genevieve says, "MDH had an old and tired website so while we were looking for a more professional-looking and striking website, we also needed one that was easy to update and had a bit more function to it.
"We're so busy at the stations, we don't have time to make a list of changes, send them away and have the website down while the updates are being made. We need to be able to sit down, make the changes easily and have a fresh and exciting website performing for us immediately.
"With the new Bloomtools website, I can make changes when I need them, which is great for our business," she says. "The family all love the new web pages and are so pleased with how it has turned out. It has made a big difference being able to edit the pages myself when I need to and the graphics are fantastic!"
When recruiting for MDH Pty Ltd, the recruitment officers try to attract potential employees throughout the year prior to the annual seasonal recruitment drives - which vary depending on the location, weather and season - and boost their efforts towards the end of the year in time for the next season.
As Australia's largest private landholders, the McDonalds offer career opportunities in a range of jobs from jackaroo/jillaroo, governess, helicopter pilot, cook, mechanic, gardener, feedmill operator and bore runner as well as a list of other positions. Potential staff will find it simple to apply, with a link to the Application Form being very easy to find on the website.
Genevieve is very happy with the added touch of technology and believes the Bloomtools-built website will help bring even more success to the MDH Pty Ltd operation.