Client Spotlight - Pro-System Training Services
Posted on 8 August 2012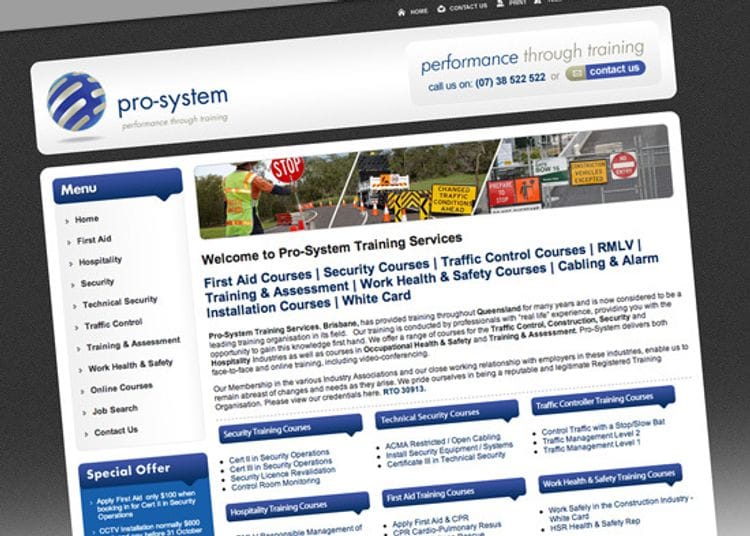 Pro-System Training Services is taking very seriously the use of technology to create leads and sales as well as the delivery of its service. Getting an ROI is what business is all about and in order to do this online you need to be able to effectively use the tools in your arsenal.
Since Pro-System began sending out invitations for training events to its database it has been receiving automatic bookings coming through on each email campaign. While customers can easily read about the courses available within the email they've received, if they're interested in taking part in the training they can then click on a link to book and pay - providing a simple result for both sides of the transaction.
Pro-System Training Services is a leading training provider across a number of fields, including Traffic Control, Security, Construction, Hospitality, OH&S and General First Aid as well as LVR (Low Voltage Rescue). Based in Brisbane, Pro-System delivers both face-to-face and online training, via video-conferencing, from educators with real-life job experience and provides a Participant Handbook to explain how the courses operate.
Belinda Shields, Pro-System's customer relationship manager, says that each campaign is generating between six to eight phone enquiries and more via direct email response.
"I'm very happy with the response rate," says Shields, "considering we output two to three campaigns a week depending on the industry sector, it is all going really well.
"Response to the campaigns has been immediate, with phone calls regarding the courses on offer coming through within minutes of the emails being sent out. We're also tracking a high open rate with many of the campaigns, which is great."
Pro-System formerly relied on faxes to market its services, which was failing to generate interest. Bloomtools built Pro-System's website with email campaigns being the main priority but keeping in mind that the website was relatively useless unless it provided information about what courses were on offer.
People need to know what training is available in order to find the right course. Through Bloomtools, Pro-System has been able to set up its database and distribute regular email campaigns to communicate with prospects and new customers.
Shields says that the campaigns are a big success and have definitely been driving more traffic to the website.