Client Spotlight - Sydney Child Psychologist
Posted on 8 January 2013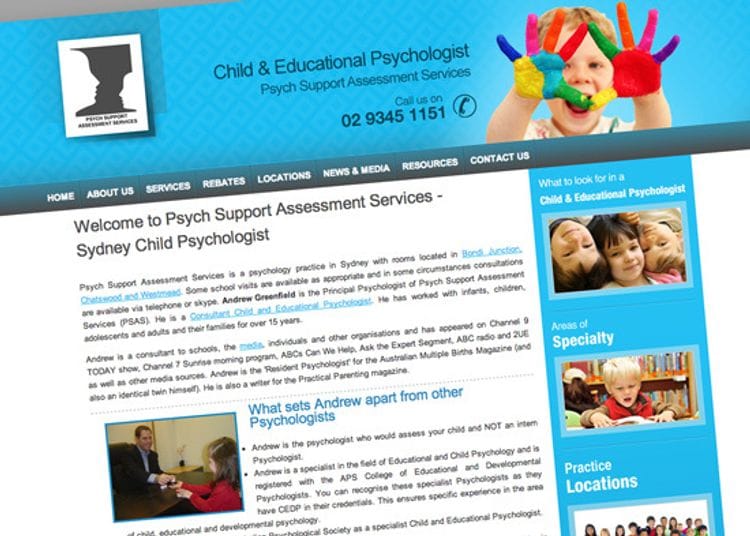 Ranking on the front page of Google searches for renowned Sydney child psychologist
Andrew Greenfield
is one of the benefits of having a new Bloomtools-built website for his
Psych Support Assessment Services Child Psychologist website
.
Previously appearing on pages further back in Google, the new website is a welcome change from Greenfield's former template-based site.
Greenfield says the
Bloomtools team
was "very patient with me" during the set-up operation, and helped the process along by explaining things in a professional yet user-friendly way from start to finish, which was "very easy to understand".
Working in a busy practice, with regional bases in Bondi Junction, Chatswood and Westmead in Sydney, Greenfield needs as much time to focus on his business as he can.
"The website saves me so much time because I can refer potential patients to the site to find information about the services I offer, our office administration and the strategies I use," he says. "And I'd say 70% of clients who phone me have already been to the website before making contact."
Greenfield is using the Promo Boxes because they stand out visually, provide an easy way for visitors to find information on the website and encourages them to take the next step (calls to action). Best of all he loves being able to make the changes himself.
"With a bit of basic training, I have found I can do almost anything myself when using the backend of my website. Making changes has been a breeze," he says.
"I can thank my brother for recommending Bloomtools to me. He's in e-commerce marketing and knows all about the best deal for the right price when it comes to building websites. It was also an advantage that Bloomtools was an Australian company."
One more benefit that Greenfield notes about sending clients to the new website is that it "looks great, too! Very professional overall."