Coronavirus: How to prepare your business and staff to work from home
Posted on 17 March 2020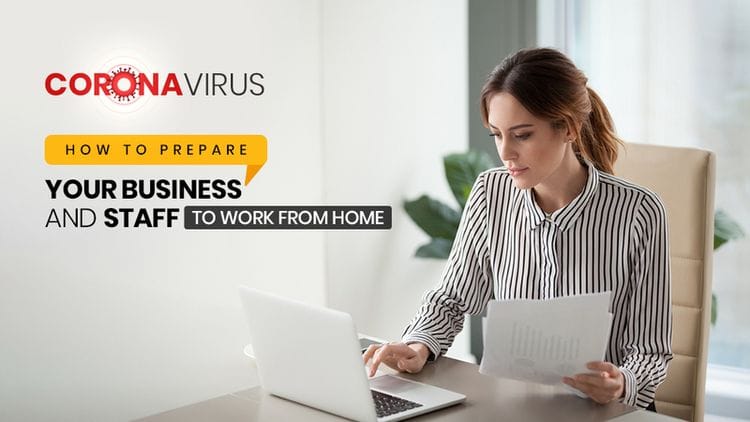 Recent announcements by the World Health Organization designating the COVID-19 Virus (Coronavirus) a global pandemic and calling for specific measures to combat the spread of the virus have had an impact on all of us and our work.
Over the weeks and months to come there is no doubt Coronavirus will have a major effect on our businesses and way of life. The reality is where possible you may need to get your team to work remotely (if not already doing so) so we have pulled together some tips and a list of potential tools and strategies you can utilise (many of which we already use ourselves).
The most important strategy of all is to remain positive and remember with downturns and setbacks come many opportunities to not only survive, but thrive.
It's also important to keep communicating with your clients; they will need you now more than ever and you need them too. Continue your sales and marketing - you may need to alter what you have done in the past to suit the times, but look for ways to stand out and create new opportunities.
How you can set up and manage your team remotely within a few days - the current Coronavirus challenge
Review your team's current computer and internet options at home:
What technology do they already have they can use for work? Computers, smartphones etc. If team members don't possess their own devices, some companies will lend work devices which have the benefit of already being setup with company software. Write up a spreadsheet on what all staff have and what hardware you have let the team take home.
Does your team use a password management system like LastPass? This is vital for security reasons, especially when team members are logging into applications out of the office.
Webcams, headphones, microphones etc. for communication with team members and clients (most laptops and smartphones include this functionality).
How do you share and store files, reports and other documents with your team? If you are not already using email / productivity suites like GSuite and Office365, now is the time to get this setup.
GSuite currently costs only $100.80 per user and is a professional business email setup which includes a filing system and the ability to share documents, spreadsheets, presentations and more. This is one tool we regularly use in our office and recommend to all our clients (if interested, we can set this up for you - just give us a call).
How do you keep your team working as a team, remaining positive and continually interactive?
Look at tools like Google Hangouts or Slack to make chatting and talking with each other as easy as possible. Depending on the size of your team, you can set up groups to keep communication efficient (e.g. sales, marketing, support).
Look at conference tools like Zoom for having meetings and sharing screens for service, support and even sales meetings with clients.
These tools are also useful for having regular internal meetings with your team, where you can discuss business updates and each team member can discuss their recent challenges, solutions and successes.
According to a meta-analysis of 46 studies involving more than 12,000 employees, working from home more than 2.5 days a week could negatively affect relationships with coworkers as well as knowledge transfer.
It's important to maintain communication with your clients. What can you do?
If you are not already using an email marketing tool, talk to us - emails are a great way to keep in touch with your clients regarding business news and updates, give them peace of mind and offer positivity, along with helpful tips and advice.
Add a live chat tool to your website or social media such as Tawk.to to make it easier for clients to communicate with you.
If you are keen to set this up on your website, all you need to do is sign up to your selected program then email support@bloomtools.com and we'll let you know the next steps.
How do you keep track of which customers have been spoken to or emailed when everyone is working remotely?
Look at adding a CRM (Customer Relationship Manager) tool - we have a simple tool that our clients use that is integrated with the website, database (email) marketing and more to keep a track of all communication. As long as it's compulsory for all team members to use, this will enable you to have one single source of record of clients for everyone to access. Get in touch with us if you'd like to learn more about this tool - it is a simple and effective sales/client management tool both in the current time and in times to come.
Work together with your team on establishing a remote work policy:
This should include guidelines on how to stay in contact, be productive and keep the business going. A safe and efficient workspace free of distractions is essential both in the office and at home - look at things like reducing glare on your computer screen, sitting on an adjustable chair, ensuring your keyboard and mouse are positioned ergonomically and that you have access to a first-aid kit.
It's useful to measure productivity and the amount of time your team is working on certain tasks:
We use a time tracking tool called Toggl to ensure we're not spending too much time on only one thing. There is a basic free plan available for up to 5 team members.
How can you reroute your phones?
Which team members will answer incoming calls?
Please know that the team at Bloomtools will always be there to help you wherever we can to further grow your business. Click here to get in touch with us today or call us today on 07 5636 3744 if you need any assistance.
Feel free to send this email to any other small businesses you think may gain some value from these tips.