Domain Scams: Read before you pay
Posted on 24 March 2015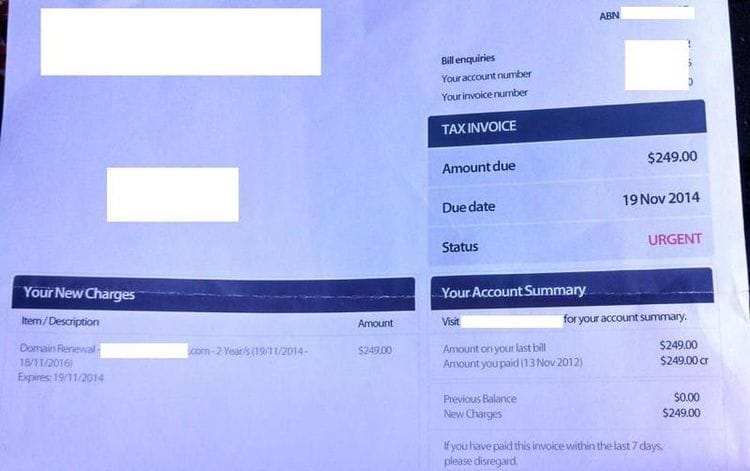 Scams or "plays" occur all the time, and they are created in such a way to catch out the inattentive. Don't get caught out with the increasingly common domain scams, educate yourself to avoid the play.
These scams come in the forms of letters or emails regarding renewing your domain name. It is made out to look like an average tax invoice for your current domain renewal, however when you look a little closer its something very different.
They are tricking you into registering for an entire new domain name, if your site is ".com.au" it could be written as "com". This subtle difference is not seen by all, and in paying the ridiculously large amount to "renew" you have been tricked into purchasing a new domain name all together.
In the fine print they hide, "this is an invitation to register."
Therefore, it does not have to be paid or actioned at all, it is simply informing you that your domain name in another variation is available - do you want it? No.
The above image is an example of a letter scam, this indivdidual has a domain ".com.au" and received this letter, which looks exactly like any other professional invoice, for the renewal of the domain ".com". We have also received some emails from clients, with a similar scam - asking people to update their domain.
How to avoid the scam:
Go to who.is and type in your website address, this website will tell you when your domain is due to expire and most importantly who it is registered under - if you receive an email/letter from any companies other than the one you registered it through disregard it.
Put it in your calander when your domain is due to expire, which company you're reigistered with and how much it will be - this works an effective reminder.
You can also report a scam or search for reported ones. Be aware about where you press "pay".


Author:
Tracey Voyce
About: With more than 30 years business management experience, Tracey Voyce is the CEO of Bloomtools. Tracey has owned and managed many businesses and spent several years training and motivating coaches at the world's largest business coaching franchise.
Connect via:
LinkedIn