How Businesses Lose Money With Google Ads
Posted on 3 September 2020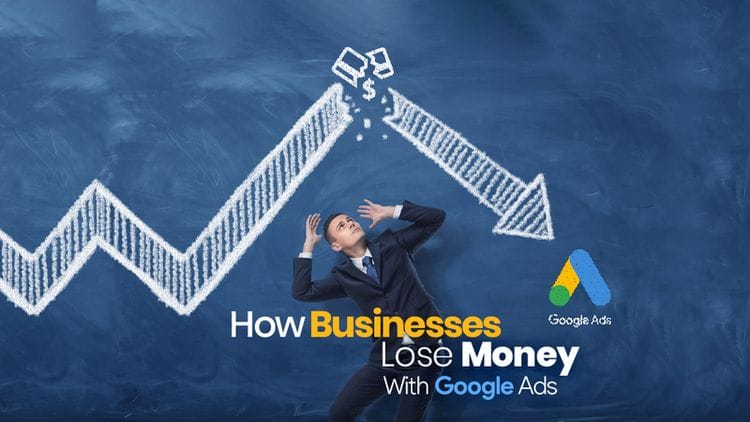 Paid advertising has many benefits and has the potential to bring quality leads and sales to businesses small and large.
The results speak for themselves - businesses utilising Google Ads typically earn an average between $2 in revenue for every $1 they spend on Google Ads up to $8 for every $1.
This method of paid advertising is notably beneficial due to the fact it's highly targeted, works to your budget and overall is a low risk investment.
So, with all these positive facts in mind, how is it possible that businesses end up losing money with Google Ads?
Here's how:
1. Google's default settings
One of the most beneficial aspects of Google Ads is the simple set-up process. While it's super easy to get started, this simplicity is also one of it's greatest detriments.
It's so straightforward, all you have to do is click a couple of buttons and enter your credit card information and you'll be ready to start running your ads within minutes, bringing qualified traffic to your site.
However, this uncomplicated approach is exactly the reason some businesses get caught out and end up losing money. Google's default settings basically guarantee you'll end up spending more than you need to for quality traffic - of course, this benefits Google as they're in the business of making money but this will blow your paid advertising budget really fast.
Adjusting the settings to meet your needs and requirements is the first step in avoiding this rapid loss of budget.
2. Lack of understanding and knowledge
The second most common reason is lack of understanding and knowledge about how a successful Google ads campaign should be run.
Businesses can waste hundreds, even thousands of dollars solely because they're not aware of the best advertising practices.
Successful campaigns are more than just about quality scores, bidding and automation tools; understanding the key fundamentals and best practices are also important.
Often, those just getting started in paid advertising will send traffic generated from their ads to their homepage. One of the very first steps in following best advertising practices is to link to a page that matches your advertising message and directly answers to the searcher's queries. Without this connection, not only will you lose money on the ad click itself, you'll also miss out on a potential sale.
To learn more and build your knowledge base, Google offers courses in Google Ads or alternatively, you can outsource to a professional Google Ads specialist.
3. Poor landing pages
This point refers to when businesses direct their ads to landing pages that are not sufficient or relatable to the search query and the ad copy. Additionally, as mentioned in the point above, ads that direct to the homepage can also often have poor performance.
Businesses who don't create dedicated landing pages for their Google Ads are going to lose money. The most effective landing pages focus on reiterating what was in the ad, focusing on a single call to action that encourages the searcher to convert.
There should be little distraction and the user shouldn't have to deal with any confusing navigational issues to find what they clicked on the ad for.
4. Not monitoring keywords
Google Adwords isn't something you can set up and leave - it requires continual monitoring and attention. Moreover, if you don't monitor your keywords, your ads can be triggered for irrelevant search terms which is both disappointing for you and the customer who entered the search query.
Leaving underperforming or irrelevant keywords to run freely is a quick way to spend your budget and receive low-quality clicks, generating traffic that ultimately doesn't convert. This also occurs when you have an insufficient negative keyword strategy.
Staying focused on refining your keywords is an important practice to follow in order to reduce any loss of budget.
5. Insufficient tracking
Another reason businesses lose money on Google Ads is because they're failing to track their leads substantially.
Tracking conversions is an integral part of figuring out whether your paid campaigns are successful or not, as well as which sales and leads are coming from which campaigns.
Any sort of advertising is an investment and in order to calculate whether you're achieving a return or calculating profits, you have to be able to measure the results of your investment.
If you want to be successful with Google Ads, you have to be able to analyse results in order to make any necessary adjustments, change strategies AND record the outcomes.
While all these risks do exist, it's not all doom and gloom with Google Ads. In fact, when done correctly, especially with continued attention and monitoring, businesses can really thrive from this type of marketing.
So, what are the benefits of Google Ads?
Faster, more instantaneous results compared to SEO.
Potential for increased brand awareness.
Remarket your ads to visitors who've seen them but didn't follow through with an initial purchase.
Compiles a large source of data and insight about your performance and audiences.
In some instances, you can outperform your competitors who aren't involved in pay-per-click advertising.
Overall, Google Ads is a worthwhile investment if you're looking to generate more leads to your business. Combined with traditional marketing methods and organic SEO, you can maximise your search engine exposure over your competitors.
To find out if Google Ads could help your business or to discuss starting a pay-per-click campaign, feel free to contact us at (07) 5636 3700 for more information, or book a consultation today with our Google Ads specialists.