How to Build Your Social Media Presence
Posted on 27 August 2020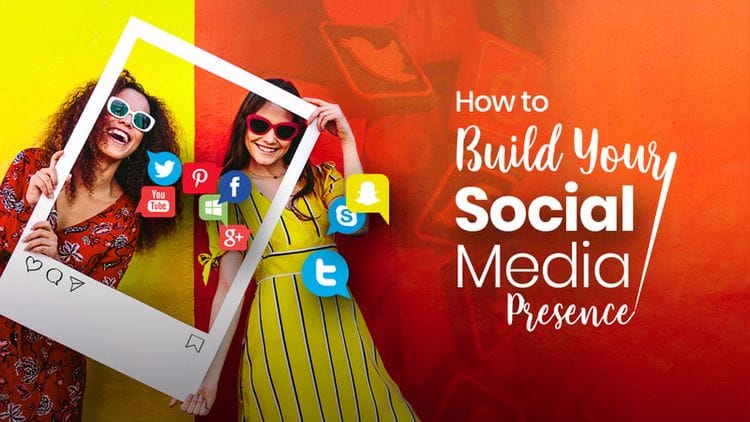 In today's digital age, it's uncommon for any business or brand to not have some sort of social media in place.
But there is a stark difference between your social media existing and your social media actually having a presence.
Unfortunately, to be successful on social media, it's not as easy as sharing a couple of facts about your business and leaving it at that. Successful social media marketing comes with time and effort.
These social channels aren't going anywhere so if you haven't had the chance to build your presence yet, with around 60% of Australians engaging in some sort of social media, now's the perfect time.
What are the benefits of a social media presence?
Grow brand awareness.
Increase your traffic.
Promote your products and services.
Help create brand legitimacy and trustworthiness.
Learn more about your audience through social listening and data insights.
Another place to receive customer reviews.
Provide exceptional customer service.
A channel to share your blogs and direct traffic to your website, furthering your audience reach.
Use hashtags to reach a greater audience.
It's highly cost-effective (and for the most part, FREE).
54% of internet users research products via social media channels, so if you've got a product or service and want to get the word out to more people, social media is a great place to get started.
Tips for building your business's social media presence:
1. Have SMART goals
SMART goals help your social media strategy be realistic. In order to achieve success, you have to define what success will look like to you. When you know what that goal is, you can develop the strategy you're going to take to get there.
Think about why you want to improve your social media presence. Is it to grow a following? Is it to promote a new product you're releasing soon? Whatever your goal is, it's important to make it a SMART goal so that you can discern when you've achieved it.
If you're aiming to grow a following, you would make it a SMART goal this way:
Specific - "My goal is to grow my following by 25% through Facebook over a period of 3-months"
Measureable - You have specified a percentage growth amount which can be measured as an indicator of success.
Achievable - The goal isn't far fetched, it's realistic and can be achieved.
Relevant - The goal is relevant because it will improve social media presence.
Time-Bound - A period of time is specified which indicates when the goal needs to be achieved to be considered a success.
When you set SMART goals, you ensure that your efforts have purpose, helping you refrain from posting aimlessly.
Other examples of measurable goals include the following:
Increasing your brand awareness (measuring shares, likes of page)
Improving leads
Grow a following in general (measuring follower counts)
Increase conversions / profits
Improve engagement with audiences (measuring likes, reviews)
2. Know your audience
You might already know your audience based on previous target market segmentation, but knowing how to reach them on social media might require a bit of extra research.
This information will help frame which channels you should use, how often you should post, when you should post and what sort of branding voice you will use to interact with these audiences.
Consider the following questions when getting started:
Who are they? Gender, job title, location, age
What online platforms would they use? Research what platforms these demographics are most active on.
What are they interested in knowing about? Business updates, special offers, tips based on your services or products, etc.
How would they prefer to consume this content? Written, video, podcasts etc.
Once your pages are up and running, you can gain further insights and data about who is engaging with your business through social media. With this data, you can reevaluate how to market to your audience more distinctly.
Additionally, consider your customer problems as well when asking yourself these questions and how you can answer them.
3. Use consistent branding
Brand consistency is super important as it helps your customers identify you across different channels.
Mismatched logos, headers and photos, especially if they're blurry or inappropriately sized, send a message of unprofessionalism and create unnecessary confusion for customers.
Choosing a business relevant profile image and cover photo can make all the difference to your online branding - if you don't have high resolution images, produce them.
All contact information should be consistent and filled out across all platforms as well, and match what is listed on your website.
4. Follow a schedule and update frequently
One of the most common mistakes when it comes to social media marketing is a lack of consistency. As mentioned before, there is a difference between your social media existing and an actual social media presence.
While it'd be great if it was done once and it's done kind of deal, but successful social media requires repeated time and effort.
However, there is some good news!
The easiest way to overcome this struggle is to have a schedule organised and there's plenty of tools available to help you do this. This isn't just something the big brands do and it's not too fancy for small businesses to engage in.
Some of these tools also allow your posting to be automated, so once you've scheduled it, the tool will automatically post it for you once it's scheduled.
Having a schedule also means you can sit down and plan out what you'd like to post throughout the week all at once - it ensures your social media doesn't become an afterthought.
5. Cross promote your content across channels
If you're using multiple channels in your social media strategy, you can save time by utilising your pre-planned content across all of these channels.
While it's super easy to share content across channels, sometimes what works for one, won't work on another and slight adjustments might need to be made for the content to be more channel appropriate. For example: what works on Instagram might not translate well to the likes of LinkedIn.
Need help choosing the right social media platforms for your business? We've got the definitive guide and answers for you.
6. Ultilise visual content
Visual content is processed much faster than written text so don't be afraid to get creative with visuals - the effort can really pay off.
It doesn't have to be daunting - it can be as simple as posting team photos/videos, photos of events or behind the scenes photos. If you're feeling really creative, infographics are another effective way to get your key information and selling points across in an image.
The data suggests that video is one of the most successful genres of content - 55% of users say they consume video content more thoroughly than other content. Video also reduces instances of skim reading, so putting your key points into a video genre is a useful way to get information across.
7. Remember to be human
Coming across as a faceless, impersonable business is a detrimental mistake to make on your social media journey.
People appreciate transparency and want to know they're dealing with humans and not robots when it comes to doing business - don't be afraid to express personality and create your branding voice. Naturally, this should help you create more engaging content.
You can also approach this point by interacting often with your accounts, replying to any customer queries or feedback and thanking those who engage with you.
8. Get posting!
Now you've covered all the bases, you're ready to get your businesses social media presence going. Remember all the benefits that come with being active on social media, but most of all, don't forget to have fun with it.
Key Takeaways:
SMART goals help you form the basis of how you'll approach building your social media presence.
Keeping a consistent branding image across all your platforms will help your customers identify you easily.
Understand your audience - even if you have a current target market, further research on how those demographics interact with social media will help.
A schedule will help keep you organised and save you time in the long run.
Cross promoting your content across channels will save you time and effort.
Switch up content styles with visuals.
Embrace your human side and personality through your content and engaging with your followers.
If you want some extra help maximizing your social media strategy this year, feel free to reach out to one of your social media marketing specialists on (07) 5636 3700 for more information, or book a consultation today.