What social media do I need for my business?
Posted on 5 March 2020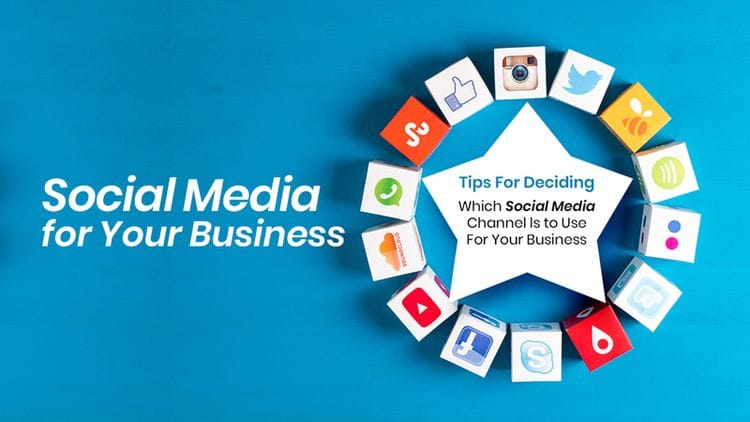 Have you ever wondered, "what social media channels should I use for my business?" With more choices than you can count on both hands, the possibilities of social media are endless. This can often be overwhelming, especially if you're not a digital native. With over 17.1 million Australians logging on to at least one social channel every month and approximately 3.4 billion users globally, social media has added a whole new edge to how businesses can positively interact with consumers. This edge allows businesses to demonstrate what they can do in real time and on a global scale.
Why should your business bother with social media at all? Think of social media as allowing you to build a voice in which your consumers can get to know you; it's a way to tell your story and show what your business, whether that be a product or service, can do for the consumer. The benefits range from attracting new customers, furthering relationships with current clients, building brand awareness and even improving search engine rankings; all while being one of the most cost-effective marketing strategies available. Generally, it's also more instantaneous to implement than traditional marketing methods (even though they're still important, too). But with so many elements, how can you ensure you're choosing the most suitable platforms to showcase your business? And how can you know how to utilise these as effectively as possible? That's why we're here to guide you in the right direction.
Before you make any decisions, you need to identify who your audience is and what channels they're using. Social media, like any other marketing tool, is target market dependent. Research has indicated the top 4 social media platforms in Australia during 2019 were Facebook, YouTube, Instagram and Pinterest. This doesn't necessarily mean these are the four most suitable for your business, as there are so many platforms to choose from. However, to get you going on social media, Facebook is always a great place to start, with a varied usership and growth that has seen a consistent and steady rate over previous years.
Facebook Tips for Businesses
By far the most used social media platform globally and likely the most well known, Facebook is crucial to just about every business. Facebook has a dominant population reach, with an audience of 71% of Australians over the age of 13. However, 87% of 43-58 year olds use the site monthly, which is proportionately more than younger generations. Although the Facebook market is highly flooded and competitive, there are still opportunities to be leveraged. If you've got an existing audience or client-base, there's a good chance they're already on Facebook waiting for your presence.
Firstly, ensure your account is a Facebook business page, not a profile account for your business. The difference is a profile account is most likely what you have for your personal use. If you're not a current user, unfortunately you have to make an account in order to open your business page. Trust us when we say it's worthwhile. Once you've done that, here's some tips to get started:
Upload GREAT images - clear, high quality and showcasing who/what your business is
If you've got a brick and mortar business, it's great to have photos of interiors/exteriors to give the potential consumer and idea of what they can expect
Claim your page's vanity URL
Upload a quality cover photo
Ensure your about section is up-to-date - correct contact information is crucial
Improve credibility and legitimacy by responding to reviews both positive and negative
Instagram Tips for Businesses
Instagram is one of the fastest growing platforms nationally, with over 8 million Australians now using the site - a 238% rate of growth in only four years. Does your business provide services highly visual? Do you have products you can sell through product teasers? Alternatively, is your target market Gen Z or Gen Y? Then Instagram could be right for you. The brain processes images 60,000 times faster than text - which is a pretty impressive statistic on why visual content is important. Get the "word" out about what you can do through imagery with these tips:
Make sure you've switched your business's profile on Instagram to a business account
Utilise the free tools offered to analyse your data
If you're selling a product, Instagram is a great tool to use to advertise teasers - by posting a teaser of one of your upcoming products, you can generate excitement with your audience without needing to be "pushy"
If you're offering a service, Instagram is perfect to flex what you can do. Do you offer gardening services? Post a before and after! This can work for just about any service as well, from gardening or hairdressing, to car repairs and cleaning services
Make the most of hashtags - do some research on trending hashtags relevant to your product or service and ensure they're listed in your captions
The "stories" feature is growingly popular. It's another great way to tease customers on upcoming products or events you're offering (extra tip: be creative, utilise exciting colours and fonts to grab attention)
Use video - some Instagram users have gathered a huge following just by posting videos of them implementing a service. For example: @prodeepcleaningpatrick has over 33,000 followers just from posting unedited, simple videos of his cleaning services, which shows the process as well as a before and after
Pinterest Tips For Businesses
If you have a product or service and are looking for sales-based leads, Pinterest is the ideal platform, particularly if your business can leverage visuals strongly. In the past, Pinterest was renowned for having a predominantly female user base. While this is still true, this is particularly beneficial if women are your key target market. Most Pinterest users have a strong intent to purchase when they search, with over 90% users planning purchases through using the platform itself. You can take advantage of this heavily visual platform through the following tips:
Pin often and consistently
Optimise your content with SEO in mind: not only does this help with search engine crawlers, but with a strong search intent on the platform itself, you can increase your chances of being seen by users looking for your product by optimising accompanying captions and utilizing hashtags with appropriate keywords
Create a series of DIY or How To's if your product can be used in the tutorial
Does your website feature a shopping cart? You can create pins that allow you to add "shop the look pins" which will take users directly to your website and your product
Looking for more detailed tips on Pinterest? Check out our recent blog on utilising Pinterest for your business by clicking here.
YouTube Tips For Businesses
YouTube is the highest trafficked site after Google, with almost 2 billion monthly users. However, it's a little trickier to make a good YouTube video than it is to create other content. This doesn't mean the site is not worth leveraging, especially if your product or service aims to target Gen Z or Gen Y, who are currently the largest users of the platform. You don't necessarily need the fanciest of gear to get started, you can begin with any smartphone that has a camera - keep in mind though, if your camera quality is poor, it's probably not worth attempting YouTube just yet. Get the camera rolling with these tips:
Start by setting up a brand account if you don't have one already
Make sure you're listing your content in the appropriate categories
Have a clear plan and vision for your content - make sure it's not just relatable to your audience but interested and valuable enough to keep them watching until the end of the video
Include a link to your website in the video's description
89% of 14-27 year old Australians use the site monthly - leverage this opportunity if your brand is relevant to this target market
Create your platforms identity to be visually strong - include relevant logos and appropriate cover photos. You can also link all your other social channels on your YouTube account
Have a gripping channel description, containing appropriate contact information as well
See what your competitors are doing - what content is getting them views and likes? How are they encouraging people to subscribe? Use this as inspiration to guide you in the right direction
All of this information can be kind of overwhelming, so if you're looking for assistance in choosing the right social channels for your business or even getting started with content, reach out to your local social media specialists.