5 Tips on How to Use Pinterest to Boost Your Business
Posted on 20 February 2020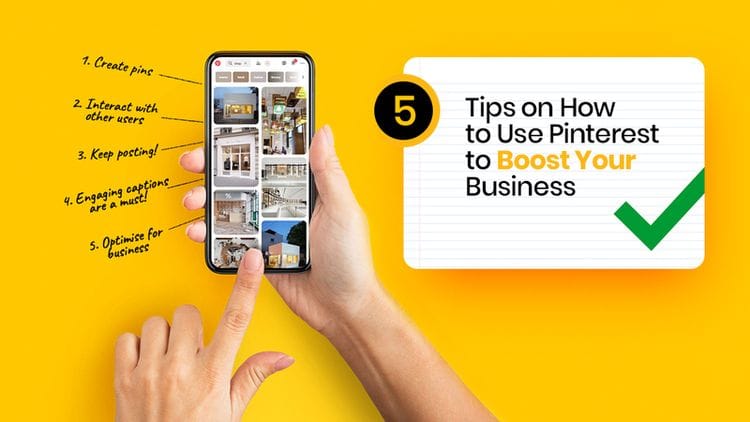 We all know how important leveraging social media platforms is in today's modern age. Think you've ticked all the boxes with Instagram, Facebook and Youtube? Think again. Pinterest is the fastest growing social platform in the nation with over 7.3 million visitors and a rapidly growing user base. But a new social platform can be intimidating if you're unfamiliar with it. No need to worry - we've lined up the top 5 tips for growing your business with Pinterest.
1. Create pins
Pinterest is essentially a visual search engine. You want your pins to not only relate to your business but be high quality, clear and visually appealing to your audience. What should you post though? Original content is the easiest and best way to stand out in the Pinterest crowd. For example: creating an infographic with a "how-to" or "tips," particularly relating to your business or what you specalise in. Video content, blog teasers or any content that's inspiring is also enticing to users. If it's a strong visual, you're on the right track.
In saying that, creating all original content would be extremely time-consuming, which is why repinning the pins created by others is a great way to build a foundation for your boards, while also fostering relationships with other users.
2. Interact with other users
Now that you've got your pins sorted, you can start using this as an opportunity to build relationships with other users.
The best way to build relationships is to join group boards. By doing so, you're joining a community of contributors who all have similar content/topics. Now maybe you're thinking, "why would I want to disappear amongst a bunch of other users?" Great question! We all know it has become increasingly difficult to garner a following on social platforms. By joining group boards, you have instant exposure to an already existing base of followers who are now going to see your pins in the board when you post them. Simple.
Looking to find groups boards similar to you? Sites like Pingroupie have a database of board topics with follower and pin amount listed at the touch of a button.
Another extra tip is to follow similar boards to you and engage with these users through comments and re-pins. The more people you follow and engage with, the more likely you are to receive followers and engagement in return; the more you utilise the building of relationships, the further your reach will go.
3. Keep posting!
As with all social platforms, frequency of post is an important aspect of your strategy. Additionally, we all know it's important not to bombard our followers, but rather spread these posts out over the course of the day. Social media management tools such as Hootsuite and Buffer are a great way to keep all of your posts scheduled and ready to go.
Research by Ahalogy has suggested posting between 15-30 pins per day and scheduling your pins to post throughout the entire day.
4. Engaging captions are a must!
Pinterest has 2 BILLION searches conducted each month - that's more searches than there are people in China - the most populated country in the world. You want to ensure you're giving yourself the best opportunity of being discovered and the easiest way to guide your content in the right direction is to optimise it with an engaging caption; both for the user and the search engine!
Pinterest users know what they're looking for and have a strong intent to discover when they search - make it easy for the search engine crawler to bring you to the forefront with keywords, search terms and hashtags in your captions. Additionally, no one likes a boring caption and a boring caption is hard to optimise. Like any other search engine, Pinterest thrives off search terms and hashtags. If you're posting an insightful infographic that you dedicated time to create, you don't want your audience to end up in the wrong place.
5. Optimise for business
So now you're dedicating all this time to pins, boards and creating more content, you want to ensure you're reaping the benefits of the hard work you've put into your strategy. But how can you tell?
By turning your Pinterest into a business account, you have first hand access to analytics that reveal important data on your content. See who your audience is, what they're interested in and how they're engaging with your pins - discovering which of your pins are winning the Pinterest community over is a sure fire way to find out how your strategy is progressing. Additionally, you'll see the impressions (views) you're receiving on your pins and on what days of the week you're receiving the most engagement. It's easy to convert your Pinterest account into a business page - simply log into your account, go to pinterest.com/business/convert/, fill out your business name and business type and click "create account".
Congratulations, you're now a business Pinterest!
With all of these tips in mind, you're now set to venture into the world of Pinterest for Business. Keep on pinning!
Related posts