How to pivot your business to make some more money
Posted on 9 April 2020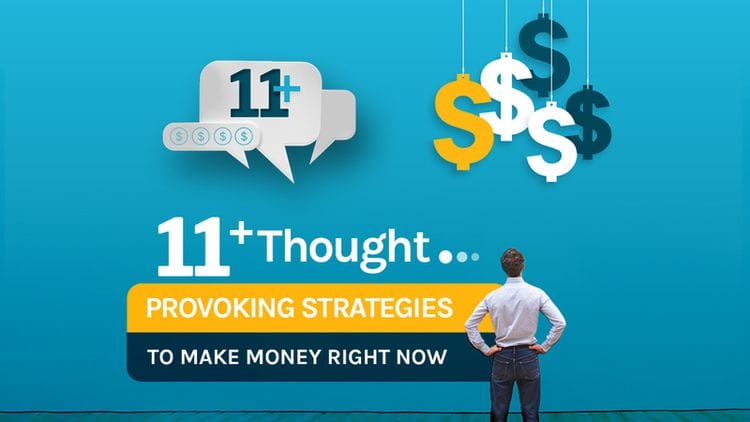 The market is different and will be for a while, and if your revenue is dropping you need to look at what you can pivot or change in your business right now to make more money. As to continue only with what you did in the past... well you know your future. So you NOW need to come up with new strategies to work on with your current clients, database or new niches to make money.
Below are some strategies for you to consider - as you read through them, ask yourself how could this apply to my business to identify some new opportunities?
Most of the following strategies are what you can do 100% yourself. But if you need help, we have suggested some external companies, along with our own to help you with what you need. Please please feel free, to give us a call and discuss some of your ideas and we can help you work out how it could be done.
What can you sell online in your business?
Sell your products/services online - all markets are seeing a massive increase in online sales. Get in on it, talk to us about how you can do this quickly and effectively. (Hey, we even have a half price special for the next few months to further help our clients get onto this immediately.)

Turn your restaurant business into takeaways with an online shop.
Sell your widgets that people used to buy off you in your shop/warehouse to buy online and get delivered, or click to collect.
Add to your own products/services with some complementary products to sell to your customers, from another business that you know to be good, through your business channels, or other products you know your market will be interested in e.g. a nail technician that has had to close for now may need to sell stick on nails, home kits; or a boat retailer, selling local fishing kits.

If you are in the service industry and you used to invoice people for your time, what can you do now online?

Financial experts - clients right now are needing help unravelling all the state, national, banks, power, landlords and other options for reducing their costs. Sell your time to do this for them so they can concentrate on their business.
Financial consultant - offer your consultations via Skype, Zoom, Google Hangouts, Facebook Messenger etc. (and sell your service time online).
Vets - like doctors, provide consultations over the internet. Charge for this time using tools like GetTimely where people can book a time for your services, and then pay online.

What could you create that you could sell?

eBook / Guide / Video how to's: Use the knowledge you have of your industry to create a product to help people with. If you have the knowledge but not the writing skills, dump down your thoughts and we can revise it into something for you or use our video editing services. Talk to us about the variety of options available to sell this online.
What businesses or markets are doing well right now - how can you sell to them?
Look to your clients that are doing well right now: how can you help them make more money? Takeaways, supermarkets, farmers, food distributors, home beauty products

If you have spare vehicles, could you do their deliveries for them?
If you are a HR company and business is really slow, can you pivot your business to help them find quality staff through some of your clients that have had to stand down some of their workers?

Look at industries that are in need right now: what can you do to help them make more money?
Look at what is at a shortage right now: think about how you can help while also making money - it may be in a completely different direction to what your normal business is:

Distilleries making hand sanitiser
Car racing companies making ventilators
How can you make use of your database of clients, followers on social media, alliances and/or suppliers to make money?
Look at who will pay you commissions to promote their services, tools and products. Look for businesses running affiliate programs.
You could even promote our products and services to your database or social media following and we will pay you a commission for any lead that turns into a sale (software tracks all the leads and lets us know it comes from you). You could also set up a new business and be a reseller (where we rebrand our products and tools to being your own, and you sell, we build and you profit).
How can you get others that have large databases or social media followers to sell your products and services for you?
There are businesses that are hurting right now, but not thinking like you: you could approach them with an idea that they could promote your business through a referral scheme and earn some money themselves.

A videographer who has lost all their conference business could approach companies to instead run monthly workshops that people pay for; they can record the workshops and the videographer will edit and polish them up.
What could you turn into a subscription, membership type solution?
Content model - courses, articles, workshops etc that transforms your customers along the way. eg. a Dance company, that helps people improve their fitness, create a dancer body, all through ballet workshops. People pay monthly to receive these video workshops,tips, guides and for elite membership some one on one training; or subscribe to receive magic lessons, products through monthly trick lessons.
Service model - delivering a solution that solves a consistent problem or a new type of value periodically, like weight loss, essential needs, interests. eg. sending shaving razors, creams and gels consistently to your subscribers; or supplying a mystery box regularly to surf enthusiasts.
Repeat products/ Themed Subscription boxes - from Fruit and Vegetables, to cleaning products, to Trekky enthusiast mystery boxes full of memorabilia.
If your business premises have had to close, what can you sell to make money?
To make money, gyms could hire out some of their equipment to their clients. For others, without equipment it may be that you sell them some PT or group sessions.
For a baker who's always had popular and well-loved cake there is now a growth in people doing their own home cooking that can be used as a money-making opportunity. You can run workshops online and charge them to learn how to decorate cakes using tools like Bloomtools event manager (that enables you to take bookings for events, charge them and promote them), Zoom, Google Hangouts, or GoToMeeting to run the events (and record) and charging a nominal fee. Afterwards, you can then sell the course online as you've already recorded the training session.
A local drive-through bottle shop that operates alongside a pub has started selling their pub meals as takeaways where you can pick them up through the bottle shop drive through. Additionally, they've partnered with a local famous bakery to sell fresh bread, pasta, pies etc. all of which is being promoted through social media - the key is finding a partnership that works with your target market. Both brands gain exposure and sales by working together.
Or any of the ideas up above, that is completely different to what you have done in the past.
So after reading the above list, you're now thinking widely and coming to realise there are opportunities out there for your business to survive and then bloom. When you get the ideas evolving, give us a call to discuss and let's see what we can help you with, where we can direct you, or just give you a sounding board for your ideas.
They say right now it is not the case of coming up with that one big idea; it's about putting lots of new ideas into place then collectively you will get through this a lot better than if you had done nothing.
If you are not on our mailing list to receive more business ideas and strategies like these - join here.
You can also follow us on Facebook or Instagram.
Please share this article to your friends and colleagues, so together we can help more businesses survive and bloom through these times!
To view other inspirational stories for now - visit our Bloom page.