How YouTube Streamers Do It: 5 Tips to Grow Your Audience and Market Your Brand
Posted on 18 November 2021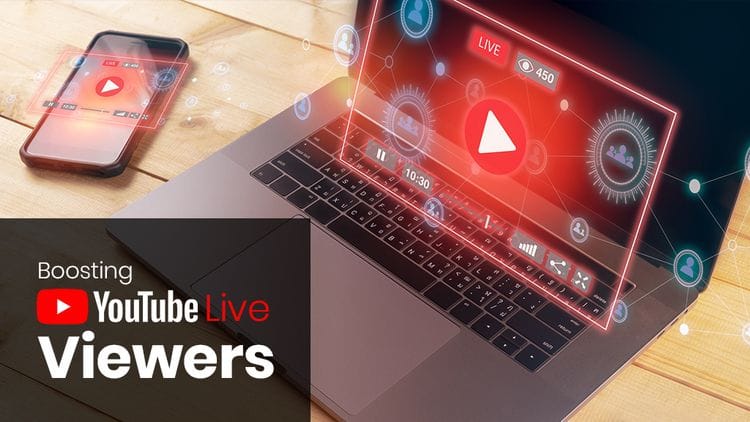 Why people and businesses are using YouTube Live:
When it comes to marketing yourself and your business online, it's no mystery that social media is one of the cheapest, most effective, tools.
YouTube is no different, and YouTube Live is a fantastic tool for driving up views and gaining traffic to your website.
It's also an incredible way to connect your social media channels and drive engagement between them.
You can quickly boost your audience numbers without purchasing viewers and advertising space by following the next five steps.
5 Steps to boost the size of your YouTube Live audience
1) Advertise Your YouTube Live Video
There's no point in spending time and money on a complete setup and starting your YouTube Live video if you haven't told anyone to watch it.
Like all events, you should always invest some time and energy into marketing it.
Read 6 Steps For Perfectly Promoting Your Next Event.
2) Schedule the video ahead of time
Once you've figured out what you want your video to be about or what you want to advertise, you need to organise a schedule.
You should organise your video in a timeslot so that people will be free to watch it, like outside work hours. You should also check other events to make sure that your times won't overlap.
3) Plug it on your social media (and everywhere else)
Once you have your time booked in, it's time to let your potential viewers know. Target your viewers using social media, emails, or in-person at your place of business.
To optimise your social media posts, follow the 5 W rule (who, what, when, where, and why).
To make it even easier, you can space this information over several posts.
4) Make the content valuable
Time is the most valuable resource for your viewers, and your YouTube Live video will make them spend it.
To encourage your viewers to stay for a while and engage with your content, you need to make it more valuable to them.
Some great ways to make your YouTube Live content more valuable to your viewers are:
Offering incentives to viewers who stay until the end of the stream

Engaging with your audience's comments and other interactions

Offering direct interactions with viewers like taking calls on stream
5) Evaluate and reschedule with a retargeting strategy
Livestreaming can sometimes be trial and error, and because of that, not every stream will work perfectly.
Figure out what works best for you by:
Analysing which audience types engaged most actively

Looking at what incentives worked and if they were worth the cost

Reviewing where your audiences found out about your stream
And then combine the best strategies to boost your viewer numbers.
Remember that every audience is different, and you might need to keep changing tactics to boost your viewer numbers.
The next step
To profit from YouTube live videos, you need to create a sales funnel. Your goal will be to drive viewers to your brand or business either online or in-person.
The next stage of your funnel will be driving your audience to your website, which will need to continue engaging with your audience and encouraging them to connect with your brand.
Not sure that your website is ready? You can grade it for free online and receive indicators on where your website may be falling behind.
If you're ready to take your brand or business to the next step, contact your local digital marketing experts on (07) 5636 3700 or contact us online.