Are hashtags still relevant in 2021?
Posted on 22 April 2021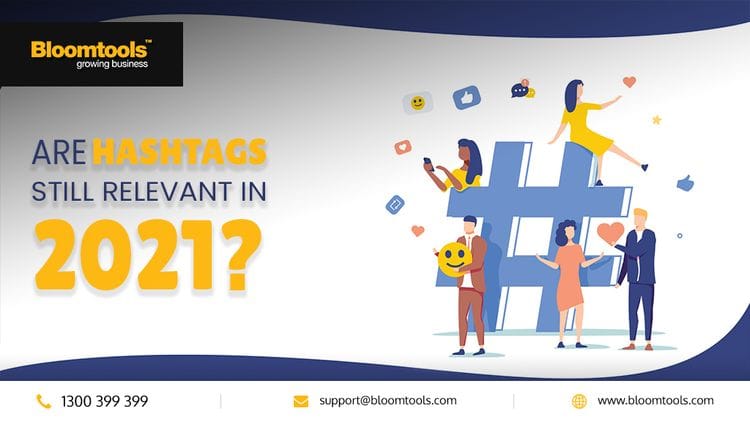 Hashtags, or the "#" (pound symbol), became a prominent aspect of social media and social media marketing over a decade ago. With so many changes occurring since then, maybe you're wondering whether they're still important to your strategies and whether taking the time to use them in your marketing is worth the effort.
Despite the changes in the digital world, hashtags are still relevant in 2021.
What is a hashtag?
A hashtag is a key word or phrase strung together without spacing and the pound symbol placed in front. For example: #bloomtoolswebsitedesign or simply #bloomtools.
Why should I still use hashtags in 2021?
Boost a post's organic reach
Join trending topics
Create branded hashtags
Promote any contests or giveaways
Further the localisation of your marketing to attract people within your community.
When you use hashtags on social media, you put your post in front of a potential audience who otherwise might be oblivious to your businesses' existence. If someone searches that particular hashtag, whether they're searching for a product or a service, it's an opportunity to have your business shown.
On Instagram, if you have your account set to a public profile and not a private profile (very important to remember), using a hashtag will automatically share your post as something everyone can see.
This gives you the opportunity to connect with your target market on topics that are relevant to them. Using hashtags on your posts will increase your likes per post, followers and can even be a great lead generation tool if you link them back to your website.
How do hashtags work?
If you're new to the concept of hashtags, they work by using keywords or phrases that are relevant to targeting your business's particular audience. Regardless of whether someone in your target market has done business with you before or not, using the right hashtags can put you in front of them.
If your business is a real estate business based on the Gold Coast, you could utilise the hashtags #propertiesgoldcoast or #goldcoasthomes on any post you have advertising a property up for sale or rent.
Once you've hashtagged these keywords or phrases, they'll appear in a designated feed that shows only posts with these hashtags. Hashtags are a way to categorise public content which enables you to engage with other social media users interested in this topic.
How do you use hashtags?
The key thing to remember about hashtags, is that you will need to do your research before selecting. For Instagram, it's suggested to look up the hashtag you are interested in using through searching it first on different social platforms. This way, you'll be able to gauge whether or not the content that is being shared through that hashtag is actually relevant to your target market.
You should choose hashtags that are relatively short, easy to remember and most importantly specific to your business. If the hashtag is too vague, your post could be lost in the sea of other content. Don't forget the opportunity for localisation either - if your business is a hairdressing salon on the Gold Coast, include #GoldCoasthairdresser rather than just #hairdresser.
It's also important to remember you shouldn't overdo it with your hashtags - keep it to around 5 to 6 so your posts don't appear "spammy" to users. However, it is possible to add up to 30. Keep in mind, being specific is most important when it comes to hashtags.
With the inherent ability to improve your visibility and reach millions of users around the world, hashtags remain a crucial aspect of marketing strategies still to this day. Whether you're a new business just getting started or you're established and looking to launch a new product, hashtags are a great way to get your brand seen and heard in social media.
If you want to maximise your marketing strategy this year, feel free to reach out to one of our digital marketing specialists on (07) 5636 3766 for more information, or book a consultation today.