New LinkedIn Company Pages: generating reviews and leads for your business
Posted on 22 October 2012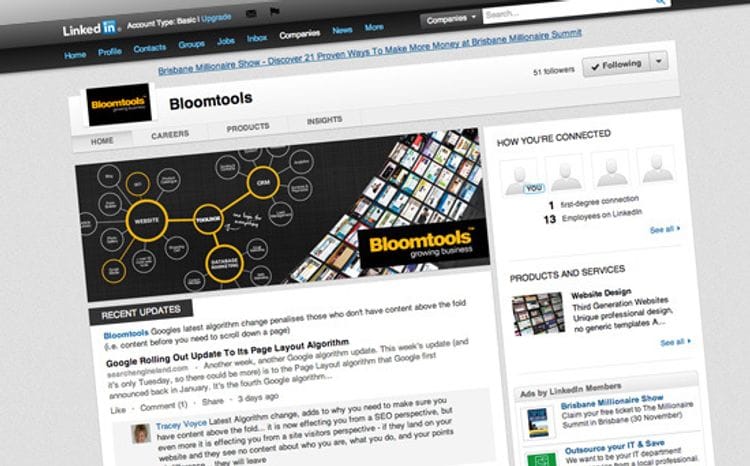 LinkedIn has given its Company Pages a Facebook-style facelift that makes it easier for users to access company information and services and keep up-to-date with business news. The popular professional networking site trialled the new-look pages on select businesses before rolling it out across all company profiles this month, which means your business can now reap the benefits.
Why LinkedIn?
So what are the benefits? LinkedIn is a popular social media site that gives you, as a business owner, additional ways to market your brand and connect with clients and partners. Having a LinkedIn Company Page is like having another website with a captive audience: you can profile your company; connect with customers, suppliers and employees; and interact with the groups that are trawling through LinkedIn in search of like-minded people.
Think of it as an online space in which leads are generated, connections are made and deals go down. Use it well and it's like a free ticket to a VIP networking party that lasts all year round.
So do you have your ticket? Now is the perfect time to take advantage of the new features and start a LinkedIn Company Page, or give your existing page a complete overhaul.
So what's new?
The design changes provide your business with a better-looking 'shop window' by giving more prominence to brand imagery or pretty pictures. The addition of featured updates, news streams and the inclusion of a mobile app increase the usability of your LinkedIn Company Page, too. You can easily interact with users who visit your page, helping you figure out what makes them tick.
What do I need to do to my new Company Page?
A little bit of maintenance goes a long way to maximising your Company Page. Here are four easy to-dos:
Make it picture perfect: LinkedIn's jumping on the Facebook Timeline bandwagon (where a photo sits across the top of the page) and this is your best chance to make a good first impression. Upload an image that's uncluttered, professional and represents your business well.
Be newsworthy: LinkedIn's new featured update functionality allows you to highlight important company news. These snippets will now be the main attraction of the page, keeping your followers up-to-date with all the latest information. Followers can also share, like and comment on your posts - plus write reviews and share those reviews with their networks. And you should encourage them to do all of those things! It can go a long way to increasing your online presence.
Strut your stuff: Spruce up your shop window by describing your products and services. You can also benefit from the buzz by asking your current customers to recommend products. The more reviews you get the more the good news about your business will go viral.
Crunch the numbers: You can now log in 24 hours after a post to track its reach. Figure out what your audience likes best then write future posts to suit.
Use LinkedIn to its full potential and there's no end to the amount of active leads you can generate, or rave reviews you can showcase.
Have you had any early success with the redesigned LinkedIn Company Pages? Let us know in the comments below.