Open Source vs Proprietary CMS
Posted on 25 February 2021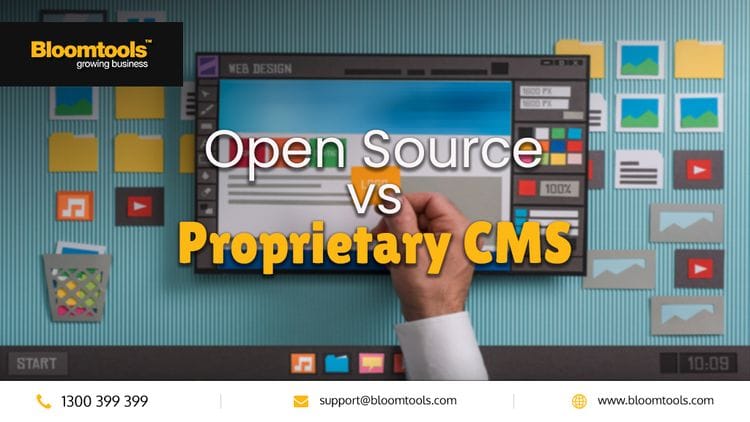 Choosing your website platform is a huge decision - with the variety of choices out there, it can be tough to know you're making the right one for you and your business. Your website should be easy to use, optimised for search engines and regularly updated. On top of all of this, it should have the capability to align with your businesses needs and goals.
There's numerous platforms that might fill the bill for your business, so how do you choose? Well, that will depend on what your online needs are. This article should help you understand the choices and is designed for small and medium businesses.
Firstly, let's clarify how most web platforms can be categorised into two groups: Open Source and Proprietary.
Main features of open source systems:
Open source systems are generally built and maintained by interested people all over the world. While there is typically one controlling body, they belong to no one.
The source code is available to all - anyone with the skills and time can extend and modify the code, creating new functionality as required.
Hosting can take place anywhere - you can host an open source web site with just about any ISP or hosting company on their servers or your own.
Open source systems are typically free or at least the software itself is - however, customisation, design, and hosting are not.

Main features of proprietary systems:
Proprietary systems are generally built and maintained by a single company.
Typically do not allow access to the source code, although the best of them provide an open framework (or API) allowing them to be extended by others.
Typically hosted by the company that created them, although some can be hosted elsewhere.
Require a license fee of some sort, although it's often built into the hosting charges.

Open Source
There are a number of popular open source platforms, including Wordpress, Joomla, Drupal, DotNetNuke, Mambo and many many more. Which one is best will typically depend on who you ask; every web developer has a favourite and all will tell you theirs is the most complete, easiest to use and most cost effective!
The only thing for sure at the moment is that Wordpress is by far the most popular and is rapidly becoming the default standard. If starting fresh with an open source solution you would need to have a very good reason not to choose Wordpress.
When is an open source solution best for you?
You want a solution that is quick and cheap up front and don't mind using a basic template design to get started. Recommended only for the smallest of businesses that just need a brochure to get started.
You have the time and expertise to create your own website from one of the template sites (technically not quite open source while they are typically based on Wordpress they lock you into a proprietary host).
You have a unique idea and need to build custom functionality into your website.
Your online presence is your business and you will be investing all of your time enhancing, tweaking and improving your website.
Your blog is your business, in which case you really should use Wordpress.
You are comfortable making choices about technology including add-ons and enhancements and hosting. The great thing about open source is there are hundreds of companies making add-ons, the bad thing is at some point you will need to evaluate and choose.
You (or your technology partner) have a plan to keep the software updated for bugs, security issues and enhancements.

Key issues with open source:
Building a website on an open source solution isn't a free option though basic template sites are a cheaper option.
Software updates and support during these updarages are generally not included. While there are thousands of developers in the open source community enhancing the software, none of them are working on your website. Unless you have a support agreement with your developer, your website will remain on the version it was installed on, complete with any bugs and security issues. If you want access to the latest enhancements you will typically have to pay your developer to install them.
While you have access to the source code, the design might not be yours. Template websites in particular face this issue and you often cannot move the design to another host. You also typically cannot use the design on printed material or elsewhere. If you are getting custom design make sure you own it and not the designer/developer (applies equally to Proprietary).
The majority of web developers using open source solutions are not actually software developers. While they may be experts at customising the design and working with various modules, they will not be able to develop truly custom software or fix bugs and other shortcomings.
In theory, you can move your website to another developer if you're unhappy. In reality this can be difficult due to design ownership, customisations and modules, and because each developer has their own preference for and knowledge of the various systems and add-ons. Moves that do not involve a redesign and/or rebuild are rare.
Pick the wrong software and in 2-3 years time you might find the community have moved on and development has stalled (hence the recommendation above to choose Wordpress which is unlikely to lose favour any time soon).

Proprietary Systems
When is a proprietary solution best for you?
Like open source, there's several proprietary systems to choose from. A decade ago, many software developers working in web design created their own CMS (Content Management System) - with the improvements of open source solutions, many of these have disappeared over the years.
The key issue with proprietary systems is that you must be comfortable with the company behind them. It's important they have the size and expertise to not only keep your website running, but to invest in the continual development of the product. You also need to understand that you probably can't move your website elsewhere, so at least make sure you have ownership over the design and content (a tip that applies equally to open source solutions).
You want a platform in which you have full control of the content that's shown to your website visitors - however, you don't need to be concerned about learning the coding behind the website.
You want a system that takes care of the processes itself - you don't want to worry about updating modules, changing widgets or spending any time making design changes yourself.
You don't want to deal with decisions on which modules may be best, or deal with issues like upgrading the platform and finding that 3 of the 16 add-ons you use also require an upgrade to continue to function.
You want a solution where your website technology stays up-to-date without any concerns on your end.

Key issues with proprietary systems:
Companies and software solutions come and go - having confidence in the company your partnering with for your proprietary system is important.
You need to ensure you have ownership and access to the content and design should you decide to move on for any reason (applies equally to open source solutions). Many companies will not provide this by default.
You may have little option for software enhancements or customisations or they may be very expensive. You are likely to be limited to the standard modules and functionality available, so make sure the solution is comprehensive and developing (even if you don't need all of it now a comprehensive product suite is a good sign for the future.).
Many of the proprietary platforms have simply not kept up with changes like social networking and Google's many updates to search algorithms. Many of them are simply woefully inadequate and/or difficult to use solutions aimed at vertical markets (like real estate or plant and machinery) are often in this bucket as they made a grab for market share early on and then simply stopped developing. Again, make sure your technology partner continues to invest in product development.
The key with a proprietary solution is to pick the right company with the complete product set and the capacity to continue to support and develop the solution. Bloomtools is a leader in this market internationally, because they tick all the boxes including product set, R&D and company stability. It is the best solution for the majority of small and medium businesses who are serious about getting results from their online presence and want cost effective, set-and-forget technology.

There's two additional, key points you should consider when making your decision:
Ensure your business is understood

When working with a particular platform or digital agency, you have to ensure they understand your business, your needs and how your website needs to help you meet these objectives.

In order to create a website aligned with your needs, those creating your website should be able to answer the following:

- What your key business objectives are
- Who your competitors are
- Your areas of strength
-Your key selling points

Your design

Your website's design refers to more than just the aesthetics - it also refers to whether the website is user friendly (also known as the UX Design, which is whether the design is useful, easy to use and easy to interact with). One of the perks of working with designers who specialise in these fields is that your website will be more than just a template; it'll be unique to your business and your needs. With standard, free templates that are more common on open source platforms, you tend to lose the individuality of design, as well as the UX optimisation.

After reading through this blog, hopefully you feel equipped with the knowledge to make the right decision for your business. Our team of website specialists can help you get started with your website and help you get ahead of the competition - feel free to contact us at
(07) 5636 3700
for more information, or
book a consultation
today.