SEO Tips: Your Guide to Meta Descriptions
Posted on 28 March 2019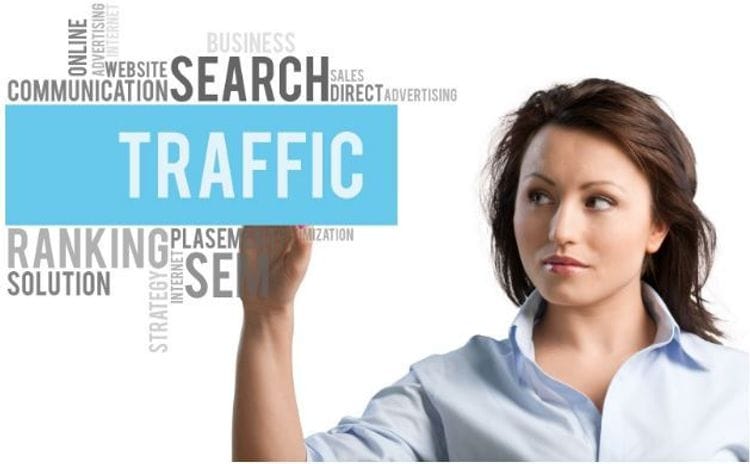 Meta descriptions are an important search engine optimisation faucet that most people aren't entirely sure how to use. But that's ok! We've put together the important information you need to know, such as: what they are, why they are extremely important and how to write them. This will help you understand exactly what you need to do in order to get the most out of your meta descriptions.
What are meta descriptions?
A meta description is a descriptive text (recommended 300 characters max) that shows up in your listings on Google. Essentially, it's how you promote your page to a search engine, which then displays that information to the user. A good thing to remember about meta descriptions is that this is an extremely important way to gain user click-throughs to your website.
Why are they of value?
Meta descriptions are the first thing a potential client or customer reads when searching for a business like yours online. You will need to have the information they are looking for front and centre. When meta descriptions are done well, the user will easily be able to decide if your website has the information they are looking for and often if you are a business that they want to deal with. If you haven't spent much time crafting your meta description, and it doesn't have relevant information, you may lose a potential client or customer to other listings that are shown around yours.
Where are meta descriptions?
When searching a website, your meta description shows the grey text describing your website. For example, when searching for timber blinds below is a sample of what I found... which one entices you the most? (Note: the blue words are your Title Tag for that page.)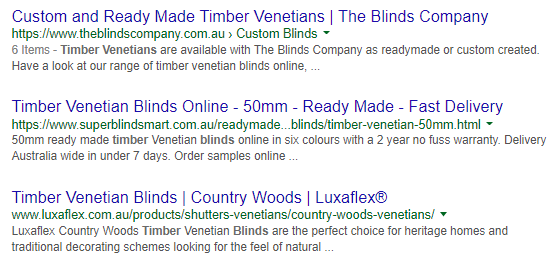 When working within the webconsole, you will find the meta descriptions in the settings tab in the left-hand navigation panel of every page, when you are editing a page on your website. Note: meta descriptions are now compulsory in our editor - you won't be able to save a page after editing it without also adding a meta description.
How can you write a great meta description?
Meta descriptions don't have to be boring: be creative with them while trying to compel the user to click. Think about the content that is on your page and what you are offering, then consider why someone would be looking for this information and what will entice them to click on this link.
From here you can start to choose your wording carefully. Google will show up to 300 characters. This is why it is so important to be concise with your wording. Keep in mind you are not necessarily writing for Google robots. You are writing for a human audience so keep it simple and use targeted, keywords for your descriptions.
You can EMPHASISE important bits in capitals, but I wouldn't recommend doing it for the complete description.
Don't repeat the same description on every page, Google doesn't like this. And if you have tools like Catalogues, Blogs and Shopping Carts, add a title and description for EVERY product/entry.
If you have any questions on how to optimise your meta descriptions, contact your Bloomtools Team and they will be happy to help!


Author:
Tracey Voyce
About: With more than 30 years business management experience, Tracey Voyce is the CEO of Bloomtools. Tracey has owned and managed many businesses and spent several years training and motivating coaches at the world's largest business coaching franchise.
Connect via:
LinkedIn