Tip: Content is King - Create a page answering common question
Posted on 1 March 2019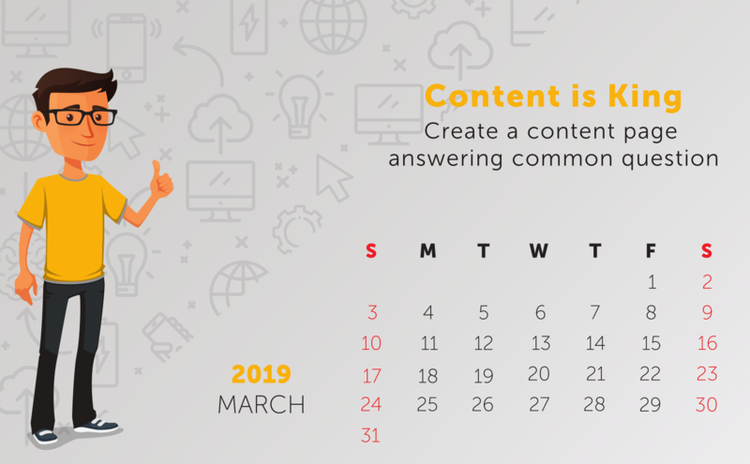 Google loves websites that have ever growing content and so do your prospective clients. Content creates a point of difference for your business and shows off your expertise.
Now you can write about new products, services, helpful tips, case studies on clients with a challenge and how you helped them, etc. But one of the most powerful things you can write about is the common questions your clients have about your business, industry and what you do...
Because guess what - that is what they will typically search for when looking for help with a business like yours.
If you have a page on your website for each of these questions or content within your website, Google is more likely to show your website above others, when someone puts that question into Google. E.g. I have no hot water in my house what do I do? How do I workout what to benchmark my business on? Can I fix my pulleys for a mining conveyor belt?
Brainstorm with your team the common questions people call up and ask about. What questions or concerns do people have about your industry?
Look at tools like Google Keyword Planner and Ubersuggest to give you a list of common questions for your industry, services, products (use these as guides).
Then create a page about each. Or use our FAQ tool to quickly write these questions, and with a click of a button, people can see the answers.
To introduce the page, come up with a good heading (H1) with your keyword/phrase in it. Eg. Plumber's Advice: What to check if you have no hot water in your house?
Then use the keywords/phrases in the page name and title tag so it further reinforces the words when Google's Bot comes through the page to index it.
Offer: If you are wanting to write articles/blogs on your website to add more content to show off your expertise (and rank higher in Google), this month we have a half price blog offer... talk to your consultant to learn more.
Did you also know we have a team of professional writers that can write some/all of your blogs for you? To find out more, talk to your consultant.