Tip: Drive Traffic - Send a promotional email to your clients
Posted on 1 September 2019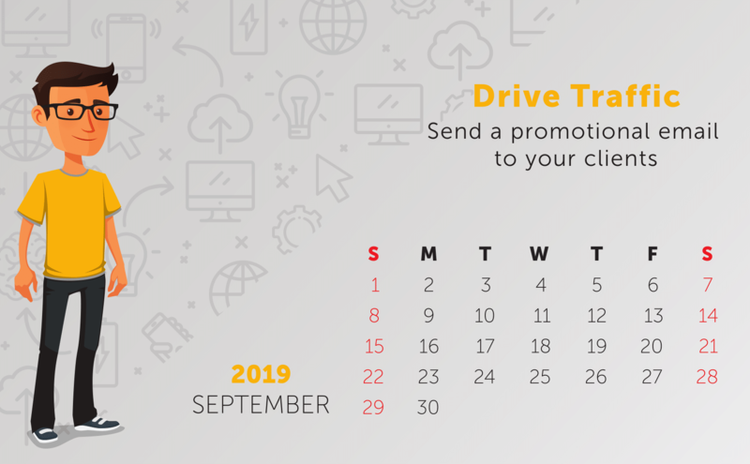 Every business owner knows they tend to spend more time focusing on trying to attract new clients than they do working with their existing clients. Did you know it is extremely easy, more cost effective and profitable to make more money from an existing client (to buy more, more frequently and refer others), than it is trying to attract and convert a new prospect into being a client?
Despite the multitude of newer digital marketing options, email marketing is still one of the most effective forms of marketing and has been identified by so many sources it shouldn't be ignored. Best of all it is the fastest way to regularly communicate with existing clients.
It offers unbeatable ROI, being cheap, fast and easy to do
Connects to and is viewed by more of your clients than social media, and also has a longer lifespan (eg. Research: A tweets lifespan is 18 minutes)
It can be personalised to improve the open and conversion rates of your email campaigns - professional email marketing solutions make this easy
Close to 7/10 customers will leave you because they perceive you don't care so try to touch base with them at least once every 90 days with something informative, special, and/or personalised to further help retain them
Can be automated
Can be used for a multitude of strategies
Today we are just going to focus on using email marketing to push out a promotional campaign to your clients. (If you would like to learn about other effective strategies, contact your Bloomtools consultant to give you a copy of our Goldmine strategies eBook).
What could you do in your promotional email?
Offer a trial, discount, package deal or free gift with a purchase
Promote a new product or service
Encourage repeat purchase with an offer
Sale
VIP event, friends and family event
Limited time offer
Run a contest
Overall, make the promotion of value for them
Tips to make it more effective:
Keep the subject line relevant and encouraging without any spam trigger words.
Personalise the email (first name, business name etc. Make sure everyone who receives it has this field completed in your database).
Target your message.
Make it easy for them to take action - whatever the next step (Eg. a button with a link to a page for more information, or a form, or shop to buy the product), display your phone number multiple times and boldly.
Keep the email short. I know long emails have been known to be successful, however shorter offers have a higher read rate (you can always link for more information).
Write it in a non salesy tone.
Ensure your email looks clean and crisp. Use short paragraphs, include bullet points, insert pictures sparingly.
Send the email from a real person (instead of info@website.com for example).
Ensure it is mobile friendly. When you do your test email, view it on your mobile device as well.
Some further qualified statistics that are valuable to know!
Research completed by Bain and Company, a 5% increase in customer retention can increase a company's profitability by 75%.
Gartner Group statistics showed that 80% of your company's future revenue will come from only 20% of your existing customers.
According to Marketing Metrics it is easier to (about 50% easier) sell to existing customers than to brand new prospects.
Lee Resource Inc. found that attracting new customers will cost your company 5 times more than keeping an existing customer.
Bain and Company also report that attracting new customers will cost your company 6-7 times more than keeping an existing customer!
If you are not using email marketing (or even if you have it and are not using it enough) then talk to your Bloomtools Consultant today and they will be able to help you get started.
Source:
https://www.forbes.com/sites/alexlawrence/2012/11/01/five-customer-retention-tips-for-entrepreneurs/#2972891d5e8d