Which Keywords/Spam trigger words to avoid in your Email Marketing
Posted on 29 October 2020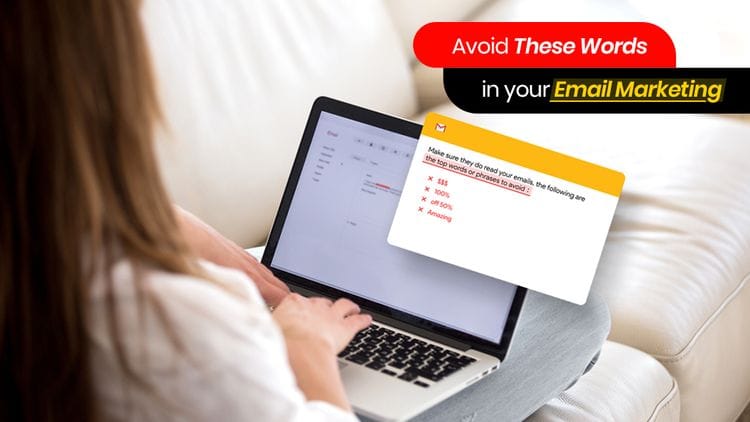 Are your emails actually reaching your customers?
Email marketing campaigns are important aspects of a businesses overall marketing strategies. A great deal of time, resources and marketing budget is spent on creating these campaigns, so when the intended audience doesn't even receive the email, it can be frustrating and feel like a complete waste of your efforts.
When emails campaigns are sent out in bulk, they go through a filter and oftentimes end up being blocked or sent straight to the spam folder. The worst part is, you might not even know exactly what you're doing for this to occur.
So, why do emails get blocked?
Private email addresses
If your emails are being sent from a private email address, they're often blocked due to restrictions on how many emails you can send at once. Typically, this method of email marketing sends all of your emails in one go, resulting in them getting blocked or sent directly to your audience's spam box (neither of which are a good outcome).

Unauthenticated domains
One of the other most common reasons emails are blocked or sent directly to the spam folder is due to being sent from a domain that isn't authenticated. Email authentication is a method used by email servers to determine if an email is or isn't spam. The method involves checking if the server that sends the email has permission to send mail on behalf of that particular domain name. For example: It's the domain owners permission for our server to send mail on your behalf. So for Bloomtools database marketing account clients, you can follow the domain authorisation process by referring to our helpful Email Authentication guide.
Subject lines
Certain words are considered spam by all email programs. From Gmail to Outlook, these systems have in-built filters that will scan incoming emails to determine whether they go to the inbox or the spam folder. The word choice of the subject line is heavily scrutinised by these filters - your word choice can be the difference between reaching your customers or reaching the spam folder.
Words to avoid in your subject lines:
$$$
100%
50% off
Amazing
Be amazed
Call now!
Can't live without
Cash Bonus
Claims to be legal
Click Here
Collect
Compare
Credit
Deal
Discount!
Double your
Earn $
Eliminate Debt
Extra Income
Great
"Hidden"
Hello
Free! Free
Information you requested
Limited time
Loans
Lose Weight
Make $
Million Dollars
Multi level Marketing
No cost
Now
Once in a lifetime
Opportunity
Promise You
Removes
Reverses Aging
Satisfaction Guaranteed
Search Engine Listings
Serious Cash
"Stop" or "Stops"
Subscribe
You're a winner!
There are obviously some words that are common business phrases and some that are difficult to avoid - in these cases, there are some suggested best practices to use. If you must use these phrases, it's suggested that you just use it once per email to avoid the risk you'll be blocked or sent to spam. An alternative option is to use synonyms in place of the "spammy" words. For example: if you have another free offer for something of value, try the word "complimentary" instead.
Though an easy and simple change, it will reduce the chances your campaign will be hurt by spam blockers. It's also best practice to avoid using all capitals, dollar signs, multiple fonts and colours, as well as the excessive use of links.
How can you stop your emails getting blocked?
Database marketing tools can ensure the time and effort you put into your email marketing campaigns doesn't go to waste. The in-built spam measuring tool looks for key spam words in your text and checks the coding side of your email - both of which are equally as important for getting your emails through inbox filters. You can also take your emails to the next level with professional email marketing services, through personalising the email to the individual client or using personal language rather than sales-like language is also helpful.
Crafting quality emails as part of an effective marketing strategy can be a daunting task, but one that pays off well in the long run with every $1 you spend returning on average $42. It's a worthy investment to ensure you're producing not only quality email marketing but in a database marketing tool that goes to the inbox and not the spam box.
Don't miss out on reaching your customers - simple changes can ensure you're making the most of this valuable marketing tool.
If you need help with producing professional emails and high quality email campaigns to grow your business, feel free to get in touch with our database and email marketing specialists on (07) 5636 3700 or book a consultation.