What Email CTR Means and 5 Best Ways to Improve it
Posted on 15 February 2022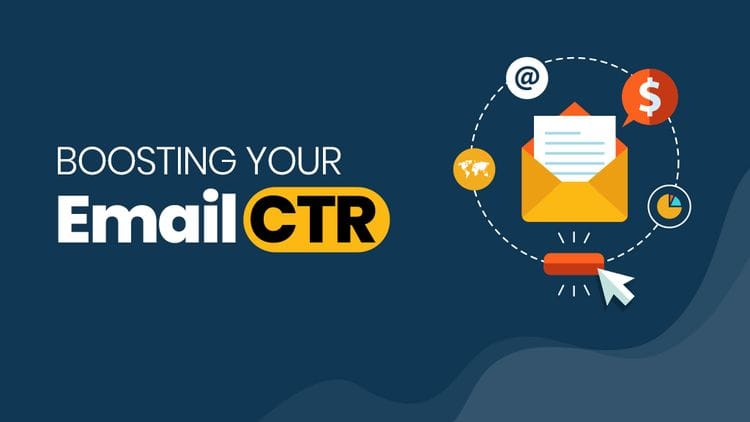 Email marketing campaigns are great, right?
Right. And an effective email marketing campaign can strengthen your brand, engage your existing and potential customers, and get them to do what you want them to (buy your product or service).
Even if your customers don't buy your products or invest in your services after reading your emails, you're still kept at the front of their minds, which is essential in the competitive online world.
Why is email marketing still so popular?
Email marketing has kept its spot at the top for a long time, and for good reason(s).
Email marketing:
Is cheap

Is effective

Can build closer relationships with customers compared to social media
Need more proof? Read Why Email Marketing Still Matters.
What does CTR mean?
Measuring the success of your email is usually measured using click-through rates. (CTR).
An email's click-through rate is the percentage of readers who opened your email and followed a link that was there versus those who didn't.
How to calculate your email CTR
The click-through rate formula is simple: divide the number of people who clicked the link by the number of emails delivered, then multiply it by 100 to make it into a percentage.
Email CTR formula:
Emails delivered ÷ emails sent x 100.
Most businesses won't use a CTR formula because their email service provider probably generates a report for each email sent.
Looking for a new email service provider that tells you your CTR and a bunch more? Consider our Lead Management Software and Email Marketing Services. It's easy to get started and even easier to use and boost your email success rate.
What should your CTR be?
On average, Australian business email click-through rates are between 2-3%.
The average click-through rate is determined by a bunch of different variables like:
Your industry: are your customers likely to spend time learning more about your product?

The content in the email: are you sending the same email that you send every week or month?

Spam filters: Is your email landing in the junk folder?
How to improve your email CTR
Design:
Do your emails look inviting? Do you have a header and footer or signature in your email that clearly shows readers who you are and what you hope to accomplish?
Ad copy:
The copy in your email is crucial. Choose your message carefully and make sure that:
It isn't too long

It's easy to understand

It's inviting
Not a big fan of writing emails? We can help you write your email marketing.
CTA:
Another fancy three-letter acronym. A Call-to-action (CTA) is typically found at the bottom of the email, and it encourages your readers to click through to what you want them to.
The most common CTAs in emails are:
Learn more

Buy now

Book your ticket

Contact us

Look online
But, you can improve your CTA by being a bit more creative and personal with your readers. Try the following to spice up your CTA:
Be personal by using names

Use friendly language

Use a button instead of hyperlinked text

Highlight exactly what will happen when readers click on your link
Generate reports and make adjustments
The best way to make your email stand out is to make it worth the readers time. But to make it worth your readers time, you need to figure out what they want to see.
Email Marketing Services:
The Bloomtools Email Marketing Service andContact Management tool are unlike other email tools and plugins.
Every email sent will automatically generate a live-updated report for you to see when your readers are opening, reading, and clicking through on your emails.
And on top of that:
The service is customisable and can easily be linked to your existing website to send emails, newsletters, subscriptions and more to your customers. You can even automate them to be sent on triggers or at different intervals.
The email builder is user-friendly with a drag-and-drop editor and the ability to add buttons, previews, and more to jazz up your CTAs and boost your CTR.
We'll even help you make them
Web development, digital marketing, and writing emails is our thing. We'd love to give you a hand with your emails and marketing efforts.
Talk to us about our Email Marketing Services by booking a consultation, or simply give us a call at (07) 5636 3700.