Why Email Marketing Still Matters
Posted on 10 June 2021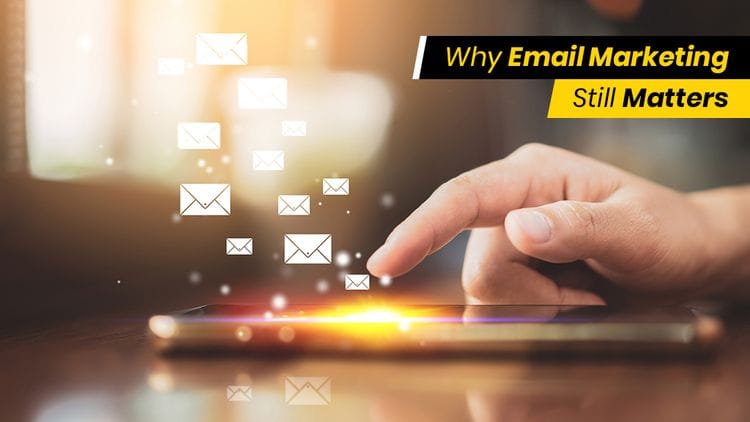 Email marketing isn't a newcomer to the realm of digital marketing strategies, but it is one that's managed to maintain popularity and effectiveness over time. Notable for boosting sales and revenue, as well as providing a generally positive return on investment, email marketing is a popular aspect of most successful marketing strategies.
Maybe you're wondering whether it's worth the investment instead of social media or search engine marketing, but the reality is, all of these aspects of your marketing strategy work hand in hand, complimenting one another. In 2021, email marketing is still an important communication tool - here's why your business needs it:
Increased engagement & improve revenue
Since the beginning, email marketing has proven that it's capable of increasing profits and engagement with your audiences. When it comes to acquiring new clients, email marketing is 40 times more effective than strategies implemented on some social media channels. When marketers go the extra mile to segment their audience list, their campaigns can see as much as a 760% increase in revenue.
Additionally, 61% of consumers would prefer to be contacted via email by brands and businesses. With this stat in mind, it's quite clear why email marketing is one of the most effective ways to keep in touch with your customers.
Reach your customers where they are
There's so many ways in which you can check your emails these days, regardless of whether you're at home or out and about. Think about how many times you're standing in line, maybe waiting for your coffee and you check your emails on your phone to pass the time. This is an excellent opportunity to reach your customers!
Mobile devices accounted for 61.9% of email opens in 2019 - your clients have greater accessibility to their emails than ever before, which increases your chances of being seen.
Build strong relationships with customers
As previously mentioned, the majority of consumers prefer to be contacted from businesses through email. This is the channel in which they prefer to hear about special offers, product announcements or any other updates you have.
Over 68% of people leave a business because they perceive the business no longer cares about them. When you send emails of value, information and interest to your clients, this shows you care.
Even if your customers don't read your emails, regular contact shows that you still value their patronage and are committed to maintaining that relationship with them.
Tracking & Measuring
Data is like gold to any business. When using an email marketing tool, you'll gain valuable data at the completion of any campaign you send out to your audience. These insights tell you how your customers behave through different metrics which will help you refine your strategy.
You'll have access to bounce rates, click-through-rates and knowledge to which of your emails gained the most traction with your clients. With this information, you can fine tune future email marketing campaigns to increase your sales and eventually your profits.
Tips to maximise your email marketing:
Don't underestimate the power of your subject line
Subject lines are the heart of an email campaign - while it's the shortest part of creative copy in your campaign, it can make the difference between whether or not your email gets opened. In fact, even the simple addition of an appropriate emoji in a subject line can see a 56% higher open rate than one without an emoji - but use tactfully and limitedly, otherwise this could be off-putting to your customers. Make sure your subject lines are always clear and create an immediate emotional response.
Segment your audience list
Taking the time to segment your email database will pay off in the long run. While an unsegmented email list works effectively for content such as newsletters or generic announ cements, a segmented list allows you to target a specific audience you think is more likely to turn into a sale based on the topic of the email. In the past, segment campaigns have been known to generate a 760% increase in email revenue!
Optimise for mobile
Based on the aforementioned points about mobile and reaching your customers where they are, it only makes sense then that you ensure your email campaigns are mobile ready. Your local Bloomtools specialist can help you ensure your campaigns and website are optimised for mobile use, allowing an excellent user experience for your customers.
What content can you send out through email marketing?
Upcoming sales, promotions
Special event details
Your latest website content or updates
Encourage them to participate in contests, fundraisers or events you're holding
Latest product or service roll outs
Introduce new staff members
If you're looking for assistance in getting started with email marketing, learn more about our digital marketing services here or get in touch with us on (07) 5636 3700 or book a consultation today for more information.